Your Handbook on Building Electrification: Steps to a Cleaner, Cheaper Way to Heat our Homes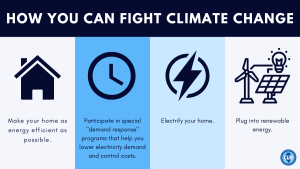 Building electrification (a.k.a. "building decarbonization" or "beneficial electrification") means replacing natural gas with cleaner, more efficient and more affordable electric alternatives to heat our homes and cook our food.
For the average consumer this ultimately means replacing your gas stove with an electric or induction model; buying an electric water heater; and switching out your gas furnace or boiler with a highly efficient electric heat pump. But let's take it step by step. No doubt these are significant household changes that require thoughtful planning – electrification doesn't happen overnight. The good news is there are a lot of excellent actions to take in the meantime. This handbook is designed to help you develop a step-by-step plan to fight climate change and lower your utility bills now, working up to the day when you're ready to electrify.