CUB's outreach staff participates in hundreds of community events throughout the state each year. Check out our calendar to see where we'll be next!
Would you like to have a CUB representative speak to your group or staff a table at your community event? Please complete the event form.
Carbondale Clean Energy Conversation
Embracing the Future: Bringing Residential and Community Solar to Southern Illinois.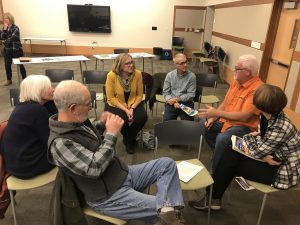 Please join us for this Clean Energy Forum.The event, free and open to the public, will take place on Thursday, January 17 between 7 and 8:30 pm in the Carbondale Civic Center, Room 108. It will be hosted by the Shawnee Group of the Sierra Club and the Carbondale Community Solar Working Group.
The first portion of the forum will offer presentations by our three panelists: Rebecca Judd (Sierra Club Illinois Clean Energy Advocate), Brent Ritzel (StraightUp Solar and Co-chair of an Illinois Solar Energy Association committee), and Scott Allen (Environmental Outreach Coordinator, Citizens Utility Board). They will share with us the latest details on the Future Energy Jobs Act (FEJA) funding for clean energy—both residential and community and unpack what we need to know to make solar energy happen in our area. The second half of the evening will be devoted to discussion and questions from the audience.
Each panelist will focus on different aspects of how we can work together to realize our solar energy future—both residential and community solar—in southernmost Illinois.
Related Events