CUB's outreach staff participates in hundreds of community events throughout the state each year. Check out our calendar to see where we'll be next!
Would you like to have a CUB representative speak to your group or staff a table at your community event? Please complete the event form.
Clean Energy Jobs Earth Day Forum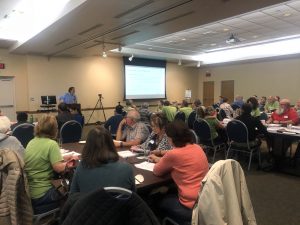 Join us on Earth Day for a forum highlighting the Clean Energy Jobs Act and what is being done to create a more sustainable Illinois!
Join local leaders, policy makers, the Illinois Environmental Council, and the Citizens Utility Board for a forum about Illinois clean energy future!
Other local organizations will be tabling — Sierra Club Prairie Group – Illinois Chapter, Faith in Place Action Fund, UIUC Beyond Coal, Food & Water Watch – Midwest, Prairie Rivers Network, and More!
Agenda
6:00 – 6:30 pm – Tabling – visit with local organizations
6:30 – 7:30 pm – Forum presentation
7:30 – 8:00 pm – Question & Answer
Facebook event page: https://www.facebook.com/events/429443734497539/
 Details below.