CUB's outreach staff participates in hundreds of community events throughout the state each year. Check out our calendar to see where we'll be next!
Would you like to have a CUB representative speak to your group or staff a table at your community event? Please complete the event form.
Waukegan Environmental Justice Rally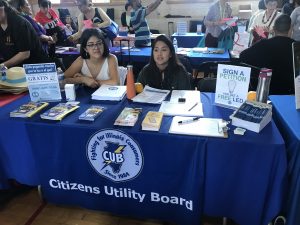 CUB is coming back to Waukegan!
Join Clean Power Lake County and our allies to stand against the unfair burdens that polluting industries inflict on Waukegan's most vulnerable residents.
Únase a Clean Power Lake County y a nuestros compañeros para enfrentar a las industrias que contaminan el medio ambiente de Waukegan y a nuestros residentes.
All are welcome– see below for more details.