CUB's outreach staff participates in hundreds of community events throughout the state each year. Check out our calendar to see where we'll be next!
Would you like to have a CUB representative speak to your group or staff a table at your community event? Please complete the event form.
Lakeview – Clean Energy Conversation at Uncommon Ground
CUB is coming to Lakeview!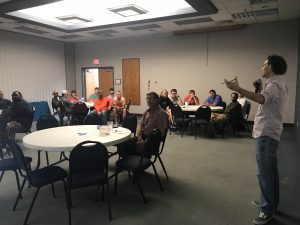 Join the Citizens Utility Board (CUB) for a discussion highlighting the Clean Energy Jobs Act and what is being done to create a cleaner future! Uncommon Ground Lakeview will be hosting the event.
With the Clean Energy Jobs Act, we have the opportunity to act to immediately ramp up the clean energy economy in Illinois by committing our state to 100% renewable energy by 2050, cutting carbon from the power sector by 2030, reducing gas and diesel vehicles from the transportation sector, and creating jobs and economic opportunity.
Please join us for a dialogue about what that future looks like, and how we can all share in the benefits. It's up to us to shape the way Illinois builds this new clean energy future. Hope to see you there!
Please RSVP for this free event: https://clean-energy-uncommon-ground.eventbrite.com
Join us to learn more.