CUB's outreach staff participates in hundreds of community events throughout the state each year. Check out our calendar to see where we'll be next!
Would you like to have a CUB representative speak to your group or staff a table at your community event? Please complete the event form.
Libertyville Green Living Fair
CUB is coming to Libertyville!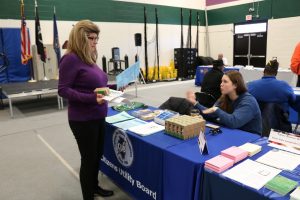 Visit CUB's table at this fun event for helpful info and great giveaways! Click for more details.
9th Annual Green Living Fair
FREE ADMISSION!
Attendees will have the opportunity to learn about earth-healthy daily routines from the 30+ exhibitors featuring local environmental groups, businesses and youth clubs. Purging Pointless Plastic is a general theme for this event. There will also be continuous 30 minute Speaker Forums addressing today's environmental challenges. This year's speaker forums will address how we, as individuals, can respond to the issue of climate change. No Goods or Services will be sold directly at the fair.
Recycling opportunities include bikes, bike parts, Styrofoam blocks, eyeglasses, Christmas lights, hearing aids, cell phones, gym shoes, wine corks, toothbrushes, empty toothpaste tubes, empty dental floss holders.