CUB's outreach staff participates in hundreds of community events throughout the state each year. Check out our calendar to see where we'll be next!
Would you like to have a CUB representative speak to your group or staff a table at your community event? Please complete the event form.
Chicago_Energy Efficiency Ideas Exchange Workshop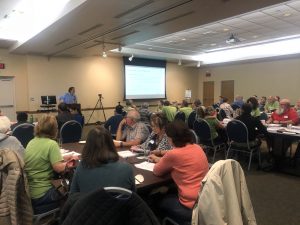 Join us for a special presentation!
Are you a building engineer, facility or property manager, organizational leader, or financial officer for a non-profit, affordable housing, or public sector building or organization? Are you interested in learning more about renewable energy and how you can finance a renewable energy or energy efficiency project at your building?
Then you'll want to attend our next Energy Efficiency Idea Exchange Workshop!
Join Illinois Green Alliance, City Energy Project and others for an exchange of ideas about renewable energy and energy efficiency! This workshop's discussions will be about renewable energy programs, financing opportunities for energy projects, and building tune-up options to make your building more efficient. Find out what Illinois Green Alliance is working on with buildings in Chicago, learn about different energy efficiency programs happening around the city, and hear about a local building's initiatives to reduce energy use at their facility. Then, break out into smaller discussion groups with energy experts and program implementers to learn about renewable energy and different energy project financing topics.
Please register for the event here: https://bit.ly/2JHCNRQ
 Details below.
Related Events