CUB's outreach staff participates in hundreds of community events throughout the state each year. Check out our calendar to see where we'll be next!
Would you like to have a CUB representative speak to your group or staff a table at your community event? Please complete the event form.
CUB is coming to Morris!
CUB will be at Senator Rezin's Annual Senior Fair in Morris!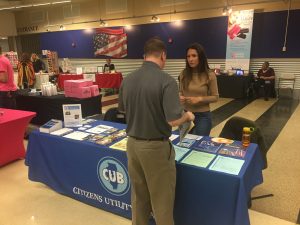 You're invited to State Sen. Rezin and State Rep. Welter's Annual Senior fair.
This fair is an opportunity to inform Senior Citizens of the benefits available to them. Visit the CUB table for helpful information and great giveaways