CUB's outreach staff participates in hundreds of community events throughout the state each year. Check out our calendar to see where we'll be next!
Would you like to have a CUB representative speak to your group or staff a table at your community event? Please complete the event form.
Clean Energy Dialogue – Bloomington
It's Getting Hot in Here: A dialogue about climate and clean energy jobs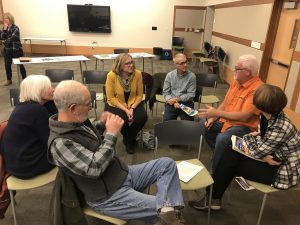 Union of Concerned Scientists' (UCS) new report, Killer Heat in the United States, presents a stark choice:
We can continue on our current path, where we fail to reduce emissions and extreme heat soars. Or we can
take bold action now and prevent the worst from becoming reality. The Clean Energy Jobs Act provides Illinois an opportunity to lead the charge in lowering emissions while creating jobs and ensuring economic justice!
Join local and state groups with the Illinois Clean Jobs Coalition in a conversation to learn more.
Related Events