CUB's outreach staff participates in hundreds of community events throughout the state each year. Check out our calendar to see where we'll be next!
Would you like to have a CUB representative speak to your group or staff a table at your community event? Please complete the event form.
Clean Energy Dialogue – Rockford
Rockford Clean Energy Dialogue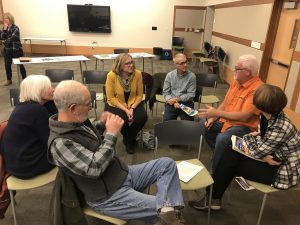 Join the Citizens Utility Board (CUB) and State Representative Maurice West for a discussion highlighting the Clean Energy Jobs Act and what is being done to create a cleaner future on Tuesday, September 17th 6pm at MercyHealth- Rockton Hospital
The Future Energy Jobs Act (FEJA), which passed with strong bipartisan support in 2016, positioned Illinois to become a clean energy leader. Now, it's up to us to make sure that quality jobs, equity, and economic opportunity are at the heart of CEJA and the clean energy future. We want to have a real conversation about what that future looks like, and how we can all share in the benefits. We have a real opportunity to shape the way Illinois builds this new clean energy economy by passing the Clean Energy Jobs Act (CEJA). Join us to learn more.
Related Events