CUB's outreach staff participates in hundreds of community events throughout the state each year. Check out our calendar to see where we'll be next!
Would you like to have a CUB representative speak to your group or staff a table at your community event? Please complete the event form.
Garfield Park Neighborhood Market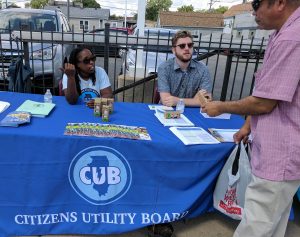 CUB is coming to Garfield Park!
The Garfield Park Neighborhood Market is one of the most unique markets in the City of Chicago. The Market originated in 2012 as part of a public space activation project on the vacant lot that now houses The Hatchery. In early 2019, the Garfield Park Neighborhood Market began hosting indoor pop-up markets at The Hatchery facility. Indoor market dates feature value-added products, such as pickled okra and cabbage relish, sourced from the Garfield Park Garden Network. Additional local businesses sell diverse items including baked goods and healthy, hypo-allergenic bath and body products. Members of The Hatchery Chicago present new food products like traditional African snacks, barbeque sauces, soups, and herb-infused salts.
Visit the CUB table for Energy Saving tips and giveaways!
All are welcome– see below for more details.