CUB's outreach staff participates in hundreds of community events throughout the state each year. Check out our calendar to see where we'll be next!
Would you like to have a CUB representative speak to your group or staff a table at your community event? Please complete the event form.
Be Green, Save Green – Glen Ellyn
CUB is Coming to Glen Ellyn!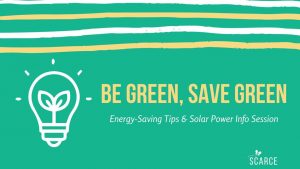 Are you looking for more ways to reduce your environmental impact? You BYO bag, recycle properly, and compost. Perhaps it's time to take a look at your energy use.
Join SCARCE, the Citizens Utility Board and Dominion Lighting & Solar to learn how you can reduce your energy bill and your carbon footprint. During this FREE program we will discuss:
– Simple actions you can take to reduce your energy use
– Free programs available from ComEd to reduce your bill and the strain on the power grid
– How to take advantage of current incentives making solar more affordable than ever
Come to get tips and tricks to decrease your electrical load or simply get the low-down on going solar to know if now is the right time for you.
Attendance is free, registration is requested: https://bit.ly/2kpNT3x
Related Events