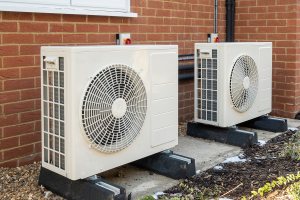 Chicago recently announced its building electrification plan to reduce emissions in the nation's third-largest city, where nearly 70% of the greenhouse gas emissions come from buildings. 
The report recommends moving to electric heat of buildings over the next 20 years. First, it would change the City's building codes to phase out fossil gas consumption in new buildings and homes and places undergoing major renovations. Then it recommends setting incremental goals to ease the transition to full adoption. The plan outlines an equitable path for privately owned buildings and residences to make the switch and reduce their carbon footprints.
Over more than a year, dozens of groups, including CUB and other members of the Illinois Clean Jobs Coalition, were part of the process that produced the report, "Developing an Equitable Building Decarbonization Strategy for Chicago."  Coalition partners Elevate and NRDC helped write the report with the City. (Learn more about building decarbonization from Elevate.)
"Building electrification is an essential component to any effective, long-term plan to fight climate change and reduce costs for consumers," CUB Executive Director David Kolata said. "CUB looks forward to helping put this plan into action." 
To reduce the number of buildings that rely on fossil fuels, the plan suggests city administrators ease the approval process on energy efficiency projects and recommends that those improvements shouldn't negatively impact property taxes on those buildings. 
For new construction projects that want to use natural gas during the phase-in process, the plan outlines a "fossil fuel mitigation fee" that owners can pay during construction, which will go to a fund to help lower-income homeowners retrofit their homes for electrification. 
"We don't have a lot of time to address climate change, and that means dramatically reducing emissions," Elevate Chief Executive Anne Evens told the Sun-Times. "This does provide a blueprint for moving forward."
There's also a lot of work to do to address energy burden and make sure consumers are protected during this transition. As the Sun-Times reported, the building decarbonization plan was announced "even as utility Peoples Gas is spending billions of dollars to lay hundreds of miles of new underground pipes across the city and plans to do so through 2040."
Kolata is pleased that the report recommends giving individuals and businesses resources to help make this transition to cleaner ways of heating and that it recommends planning around how customers of Peoples Gas will be impacted. The most vulnerable customers may be the last to move away from natural gas heat, and the report said proper planning is needed to prevent them from getting  "saddled with exorbitant costs," Crain's reported. 
"Skyrocketing gas prices and aggressive utility spending show that natural gas is simply unsustainable for consumers," Kolata said. "The good news is we have technology and policy on our side. High-efficiency heat pumps offer an affordable option to heat our homes, and the technology is only getting better. Plus, the City's report, along with other policy breakthroughs like the Climate & Equitable Jobs Act and the Inflation Reduction Act, emphasizes smart planning to make sure this transition is done in an equitable way that protects and benefits all customers."  
This is the latest step in the City's program to fight climate change. Earlier this year, Chicago announced its transition to 100% renewable energy for government buildings by 2025, making it one of the largest city governments in the country to commit to reducing its carbon footprint. 
Take Action