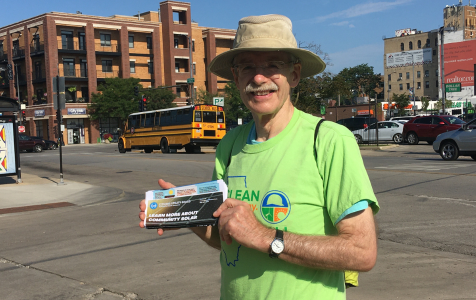 CUB's coming to your community and we need your help! We're building a volunteer team to educate your neighbors about big issues that impact utility bills-and to help people save money.
In 2021, the Climate and Equitable Jobs Act (CEJA) was passed, moving Illinois to 100 percent carbon-free power by 2045. If implemented correctly, CEJA could be a national model on how states can fight the most devastating and expensive consequences of climate change while controlling costs for energy customers. We are looking for long-term volunteers who can help us continue our fight for affordable and clean energy. This can include anything from reaching out to local elected officials and community organizations to organizing phone banks and letter-writing parties in your community. We can modify our program to meet your interests and needs.
"I think it's awesome that we have an organization in Illinois that solely protects the consumer, and nothing else," said Glenview-area volunteer Arpi Yazijian. "Just knowing I'm helping makes me feel good."
Become a volunteer today, and help fight utility rate hikes and rip-offs.