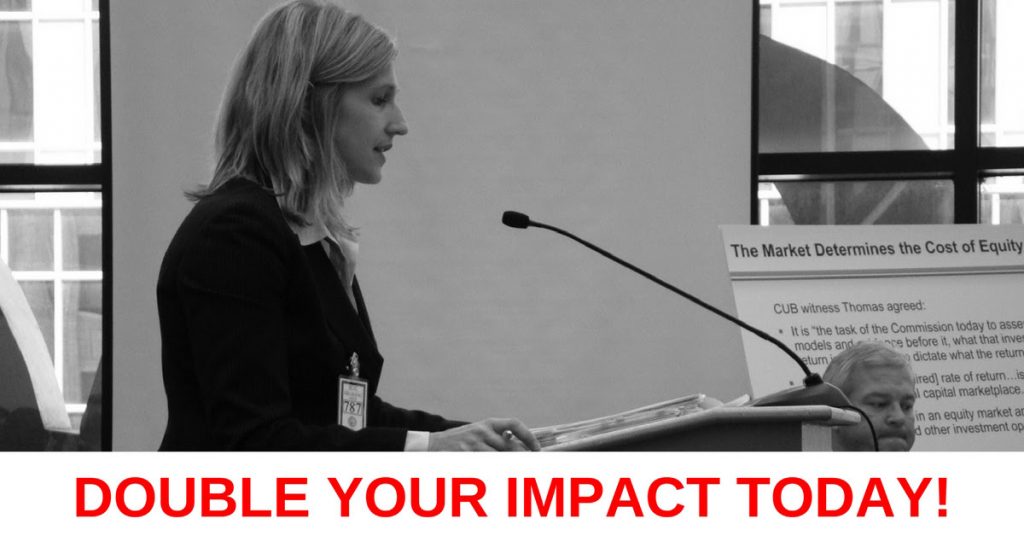 Today is a great day to join the fight against $8 billion in higher bills. Today, your donation is twice as powerful, twice as helpful!
A generous CUB donor—somebody who has been one of our biggest supporters over the last few years—has agreed to match donations. He wants to do this for you—because he doesn't want anyone paying high utility bills. Could you give a donation today?
$50 (LIKE GIVING $100 TODAY)
We're making this emergency request, because we need your help tackling these huge tasks:
Hours of painstaking legal work as our general counsel works to reduce $8 billion in higher bills pushed by Nicor, ComEd, Ameren, Illinois American Water and Peoples Gas. (So far in 2017 the legal team has saved consumers $17.5 million.)
Hundreds of events CUB's outreach team holds to help people cut their utility bills and prevent rip-offs. (The outreach team has shown consumers how to save nearly $100,000 this year.)
Thousands of complaints CUB's advocacy team handles each year—helping people erase erroneous utility bill charges and bad deals. (Thanks to the advocacy team, people have saved more than $90,000.)
We need your help, so please take advantage of this opportunity: Your donation is twice as powerful!