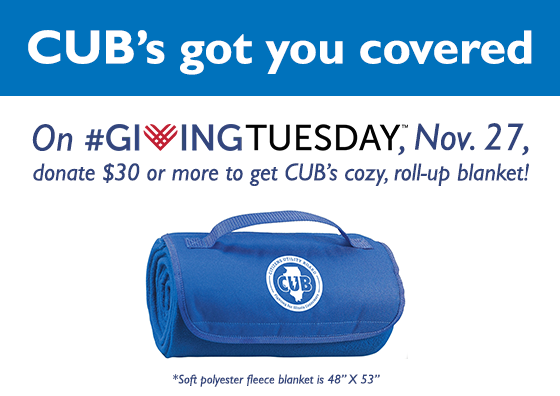 On this week of giving thanks, CUB wants to tell you how grateful we are that you are concerned about the fight for lower utility bills in Illinois.
Thank you!
Reminder: Next week is "Giving Tuesday" (Nov. 27), the national day for supporting nonprofits. But today we have a special early-bird offer:
Donate $30 or more and you can get our Giving Tuesday gift, a handy CUB blanket!
As you can see in our 2018 Year In Review, together we can achieve a lot fighting rate hikes and rip-offs:
We helped secure $125 million in consumer savings in rate cases.
With support from Illinoisans, the consumer advocacy and outreach teams helped individual consumers save a total of $250,000.
And in the coming weeks, CUB's research team will release our first-ever digital Gas & Electric Guide—a must for anybody who pays a utility bill.
All these services aren't cheap for CUB—but thanks to your support we offer them for free to the people of Illinois.
Thank you again! We wish you and your family a happy holiday season.