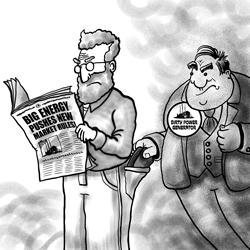 General Counsel Julie Soderna and Senior Attorney Kelly Turner and the rest of the CUB team have these battles on their to-do list in 2019:
Most people don't know that out-of-state energy corporations like NRG and Vistra are on the verge of convincing federal regulators to change electricity market rules. That would strike a blow to Illinois' clean energy policy and raise bills for ComEd customers by up to $500 million a year. (Read more about this battle.)
Just months after getting a $93.5 million rate hike, Nicor Gas now wants a record-high $230 million rate hike. (It would be the highest gas hike CUB has ever seen, and it would give Nicor shareholders an outlandish 10.6% profit rate.)
Peoples Gas is on a spending binge that could quadruple costs to $11 billion for its mismanaged pipe-replacement program. CUB says legislation is needed to bring spending under control—because it's a "looming disaster" for Chicago gas bills. (Sign our petition!)
AT&T wants to end traditional phone service for Illinois' most vulnerable customers, and kill once and for all consumer protections called

"net neutrality"

for Internet users.
Alternative electric suppliers are preying on customers door-to-door and over the phone, and have overcharged Illinoisans by $551 million since 2015.
If you want to join the fight against rate hikes, rip-offs and corporate greed, you can give a gift to CUB here!