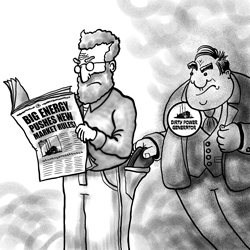 When CUB threw its support behind the Clean Energy Jobs Act, the watchdog said one of the biggest reasons is an ongoing battle with fossil fuel generators in a special electricity market called the capacity market. If we don't do something, this could cost most electric customers in the state up to $500 million a year in higher electric bills.
You may not know it, but EVERYONE pays for "capacity" on their electric bills. Here's what you need to know—and why you should support the Clean Energy Jobs Act.
What is capacity?
Not only do you pay for the power you use now, but you also pay for power you could use in the future. Capacity refers to extra payments consumers give power plant operators for the commitment to have enough electricity available if demand suddenly spikes. (Think of a hot summer afternoon, when everyone blasts the AC.)
The price for capacity for ComEd customers is determined through auctions run by PJM Interconnection, the power grid operator for northern Illinois and all or part of 12 other states and Washington, D.C.. (Ameren's market is run by a different power grid operator.)
How does capacity affect my bill?
For most customers, capacity charges are embedded in the electricity supply charge on your power bill. While actual electricity prices have been relatively low in recent years, capacity has become a bigger and bigger part of your bill, and is now roughly 21 percent of the supply charge, according to the Illinois Commerce Commission. (By the way, alternative energy suppliers as well as ComEd buy electricity on this market. So you won't escape capacity charges by changing suppliers.)
CUB has long said that capacity market rules are stacked against consumers, causing us to pay higher bills for more capacity than we actually need. But a new plan pushed by PJM and fossil fuel generators could make it even worse.
Why do generators want to change the rules?
Big out-of-state corporations that own fossil fuel power plants—companies like Vistra, Calpine, and NRG—and their allies want to change the capacity auction rules to offset state legislation, like Illinois' historic Future Energy Jobs Act. The act, passed in 2016, expands energy efficiency and gives financial support to clean energy generators, helping to depress prices in the capacity market. That's good for our power bills, but it makes it difficult for coal-fired plants to compete, cutting into their profits.
How do the fossil-fuel generators want to change the market?
Basically those generators want to artificially inflate the capacity price. That means we would pay more on our electricity bills to prop up power generators—including coal-fired power plants— that normally wouldn't be able to compete in the capacity market. So we would be paying more for power we don't need. CUB Executive David Kolata told Crain's Chicago Business that the proposed changes would have "devastating consequences for Illinois consumers" and punish the state for making clean energy improvements like the Future Energy Jobs Act.
How much would this cost consumers?
An analysis by an independent market monitor estimates the proposal could increase power bills by up to $8 billion a year for the power grid that stretches across 13 states, including northern Illinois. In Illinois, CUB estimates it could cost ComEd customers up to $500 million a year in higher electric bills.
So how would the Clean Energy Jobs Act fix this?
To answer the threat by these giant power generators, the Clean Energy Jobs Act (follow-up legislation to FEJA) would put the Illinois Power Agency in charge of managing the state's own capacity market. This reform would put Illinois in charge of its own clean energy policy, creating the opportunity to save consumers money while greatly expanding clean energy investment in the state.
What can I do?
Please send a message to your state legislators asking them to support the Clean Energy Jobs Act. Don't let fossil fuel generators control your electric bills.