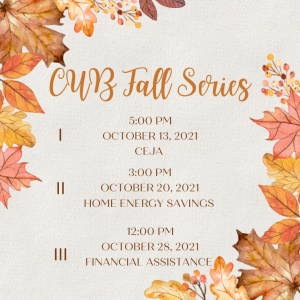 Happy October everyone, we are officially in fall and this month is also National Energy Awareness Month! Below you will find several events that can  help you improve energy efficiency at home and protect your bottom line. 
CUB is happy to announce the CUB Fall Series beginning on Oct. 13; we hope to see you there.
CUB Fall Series 
This October, join CUB staff for a second informational series focused on savings, energy efficiency and utility policy.
3:00 – 4:00 p.m., Wednesday, Oct. 20: Home Energy Savings 
A CUB expert will discuss how to spot scams on your bills, explain utility programs designed to save you energy and money, efficiency measures to reduce your utility bills and weatherization tips to help keep your home as comfortable as possible. Register here. 
12:00 – 1:00 p.m., Thursday, Oct. 28: Financial Assistance 
Two CUB experts will discuss financial resources available for low-income consumers. Topics will include high gas prices this winter, how to spot alternative supplier scams on your bills and the Low Income Home Energy Assistance Program (LIHEAP). Register here. 
---
Other events
9:00 a.m. – 12:00 p.m., Thursday, Oct. 14: 2021 Senior Fair 
Sponsored by state Rep. Jim Durkin and Sen. John Curran, the 2021 Senior Fair will take place at the CORE Fitness Center in Lemont (16050 127th St., Lemont, IL, 60439). CUB will staff a table at this helpful community event, to connect participants with important information on their utility bills and energy efficiency.
6:30 – 7:30 p.m., Monday, Oct. 18: Understanding Community Solar
CUB will partner with  Laudato Si' Ministries of the Joliet Diocese and St. Francis of Assisi Laudato Si' Ministries for a presentation on an exciting new program in Illinois: community solar. Did you know you can enjoy the benefits of solar power without having panels installed at your own home? We'll tell you how to get involved and share tips before you dive in. Register for the virtual webinar here. 
12:00 – 1:00 p.m., Thursday, Oct. 21: Will County Energy Efficiency Fall Series
Join energy policy experts for a webinar on the benefits of efficiency, updates on utility policy in Illinois as well as energy-saving tips. Got questions about these and other energy topics? We'll answer them live! Register here.