It's not every day that we can promise your opportunity to lower utility bills is in the bag.  But that's the case today since CUB is giving away free tote bags to generous donors who contribute $50–perfect for a day at the beach, a picnic, or a sustainable trip to the grocery store.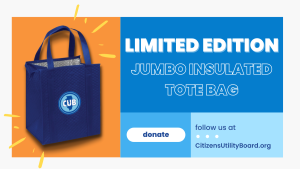 Your contributions lead to lower utility bills by supporting our programs to cut skyrocketing heating costs, force ComEd to refund customers for its corruption scandal, combat profit-mongering water companies, pass legislation to crack down on shady sales tactics by alternative energy suppliers, and more. 
Would you be willing to help us with a critical contribution? Any amount you can offer is always appreciated. Your support will help fund vital battles to lower utility bills:  
Fighting for a ComEd Refund.

It's been nearly two years since ComEd paid a fine to the federal government for perpetrating a corruption scandal in Springfield, but it still hasn't refunded customers for its misconduct. CUB has asked state regulators to authorize a $45.1 million refund to ComEd customers, more than double what the utility has offered to pay. 

Challenging Explosive Water Rate Hikes.

Illinois American Water is seeking state approval for two different rate hikes that could collectively increase customer bills by up to $31 each month. CUB is preparing to scour the books and object to every unfair penny of this financial menace.  

Reining in Spend-happy Gas Utilities.

We're trying to pass legislation in Springfield outlawing a surcharge natural gas companies have exploited to raise our heating costs by massive proportions. This controversial policy was one reason gas utilities reaped obscene profits last year. Nicor's parent company raked in $2.4 billion in 2021. Peoples' parent company collected $1.3 billion and Ameren pocketed $990 million.
If you've been planning to donate, this is an ideal time to make a tax-deductible donation and get a token of our appreciation in return. Thank you for all you do on our behalf!