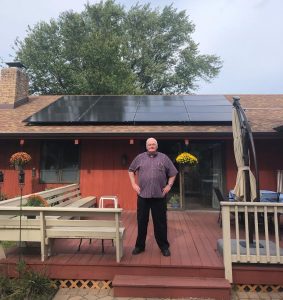 We're holding a special, interactive Facebook Live event with Midwest Renewable Energy Association (MREA) to inform Chicagoland consumers about an innovative program that has helped participants use solar power to collectively cut their electric bills by tens of thousands of dollars.
This joint online event will answer consumer questions about going solar and how to join the Grow Solar Chicagoland group-buy program. This information session, called a "Solar Power Hour," is: 
Now in its third year, the Grow Solar Chicagoland program offers free educational sessions as well as volume-pricing discounts on solar panels. 
Since 2019, the program has helped 205 properties install 1,474 kilowatts of solar. Past participants have collectively reduced their energy costs by nearly $100,000 in just one year. Along with a lower base price for solar panels, the Grow Solar program group buy has a series of price breaks as the program hits participation benchmarks thanks to bulk purchasing.
The program officially launched on May 19, and the deadline to participate is Sept. 30. Visit www.GrowSolar.org/Chicagoland/ for more information.