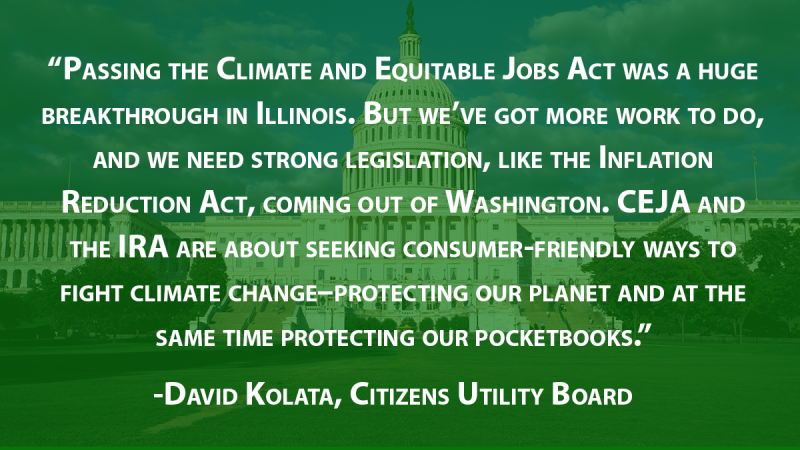 The nation has taken a historic step forward in fighting costly climate change and lowering utility bills through energy efficiency with passage of the Inflation Reduction Act (IRA).
President Biden signed the IRA into law on Tuesday, August 16, The landmark energy bill passed the U.S. House on Aug. 12 and the Senate on Aug. 7. (The legislation needed Vice President Kamala Harris to break a 50-50 tie in that chamber.)
"Passing the Climate and Equitable Jobs Act was a huge breakthrough in Illinois. But we've got more work to do, and we need strong legislation, like the Inflation Reduction Act, coming out of Washington," CUB Executive Director David Kolata said after the IRA passed the House. "CEJA and the IRA are about seeking consumer-friendly ways to fight climate change–protecting our planet and at the same time protecting our pocketbooks."  
Kolata thanked CUB supporters who sent more than 1,400 messages over the last week urging Washington to pass the IRA.
The legislation includes significant provisions on taxes and health care, but the largest chunk of spending, $369 billion, goes to clean energy and efficiency improvements to fight climate change.
CUB has long promoted the bill-cutting benefits of energy efficiency, and the watchdog argues that climate change unchecked will cost electric customers billions in higher bills in years to come. So fighting the world's climate problems through strong clean energy legislation benefits consumers and their pocketbooks.
The IRA represents the largest combined investment in energy efficiency in U.S. history and a "massive win for our climate and for reducing energy costs for households and businesses," according to the American Council for an Energy-Efficient Economy (ACEEE). Below is a summary of key provisions:
40 percent reduction in carbon emissions by 2030.

$9 billion for rebate programs focusing on lower-income consumers to help people make efficiency upgrades and switch to more efficient electric appliances. 

10 years of tax credits for making heat pumps, rooftop solar, electric HVAC and water heaters more affordable.

$4,000 tax credit for lower/middle income drivers to buy used clean vehicles, and a tax credit of up to $7,500 to buy new clean vehicles. 

$1 billion grant program to make efficiency upgrades to affordable housing.

Tens of billions of dollars in tax credits, grants and loans to support U.S manufacturing of solar panels, wind turbines, electric vehicles and batteries.
"The legislation's landmark investment of $369 billion in climate and clean energy programs will help deploy thousands of megawatts of renewable power, create hundreds of thousands of good-paying American jobs, reduce the cost of electric power, and finally put the country on track toward achievement of our climate goals," said the American Council on Renewable Energy.
RMI, formerly the Rocky Mountain Institute, added that the legislation will lower energy costs, increase investment in clean energy economic opportunities, and stimulate jobs and economic growth. "Hands down, the investments in this new legislation will help lower energy cost inflation," said Jules Kortenhorst, CEO of RMI.
The nonprofit, nonpartisan Committee for a Responsible Federal Budget estimated the IRA would reduce deficits by $1.9 trillion over two decades and called the legislation a "step in the right direction" and "responsible budgeting."
Economists told Vox that the IRA is also a step in the right direction in helping reduce inflation at least modestly in the long-term, including the act's investments in clean energy.  "They are going to, over the medium and long term, really start to untether our dependence on really volatile fossil fuels like oil and gas…which are at highs and are putting a massive strain on people's wallets," said Rakeen Mabud, chief economist of the Groundwork Collaborative. "It's really important that we start to set ourselves up well for an economy that actually can insulate ourselves from some of the price swings and shocks that we've been facing. I think this bill really starts to get at that."
The IRA is compromise legislation reached by West Virginia Sen. Joe Manchin and New York Sen. Chuck Schumer after another bill, Build Back Better, stalled last year. 
To fund these clean energy initiatives, the bill would levy a minimum 15 percent tax on corporations, like ExxonMobil, that have $1 billion+ in yearly profits.  It also would reportedly add a 1 percent excise tax companies would have to pay on the amount of stock they repurchase. The legislation would beef up Internal Revenue Service enforcement to capture more unpaid taxes. 
Given Illinois' passage of the Climate and Equitable Jobs Act in September 2021, the IRA would be "particularly good news for Illinois — provided the state takes full advantage of it," the Chicago Sun-Times wrote in a recent editorial.
"Because Illinois passed [CEJA] last year and has been thinking about it for several years, it has projects on tap that are more than shovel-ready and primed for federal dollars," the Sun-Times wrote.