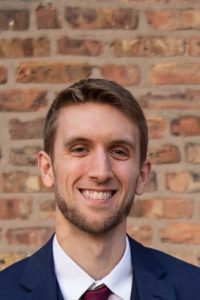 It's been quite a few months for CUB's Eric DeBellis. Not only did he become a new dad, but he's also challenging an unprecedented $2.9 billion in utility rate-hike requests as CUB's new general counsel. 
"The work we do at CUB matters because millions of Illinoisans pay utility companies billions of dollars every year for vital services. Someone needs to hold these companies accountable," Eric said.
After more than 20 years at CUB, former General Counsel Julie Soderna moved on to another position. (Good luck, Julie, we'll miss you!) Eric, our former regulatory counsel, assumed the General Counsel position in February. As General Counsel, Eric leads CUB's cases representing consumer interests before the Illinois Commerce Commission. He says likes breaking down complex legal and policy issues in plain language to convey why they matter to consumers.
"We're so glad to have Eric at CUB as we fight an unprecedented number of rate hikes and work to implement the landmark Climate and Equitable Jobs Act (CEJA) in Illinois," said CUB Executive Director David Kolata. "We need a strong consumer advocate at this position, and Eric definitely fits that description."
The Eric DeBellis file: 
Work: Eric began working with CUB as Regulatory Counsel in 2020. Before that, he worked with the Illinois Attorney General's office and had a previous stint at CUB as an Attorney-Policy Analyst. 
Home: Lives in his hometown of Palatine, with his wife and daughter, up the road from the grandparents.
Education: Bachelor's degree in Political Science, Economics, and Environmental Law at the University of Illinois Urbana-Champaign; doctorate of law from the University of California Berkeley specializing in Environmental law.
Interests: Proud dad of Emilia, who was born in January; volunteering with local parks and schools; cooking; outdoor activities; nonfiction reading; improving his Spanish.
Quote: "I am honored to serve as a consumer advocate in the fight for an affordable and equitable energy future. Every victory we achieve on behalf of Illinois consumers proves that the fight is worthwhile."