Update as of 11/14/23: The Illinois EPA announced yesterday the number of applications they received so far is more than the available funds for this year. They are still accepting applications, though applicants who qualify as "Low-Income" will be prioritized for rebates.
The third Illinois Electric Vehicle Rebate cycle will open on Nov. 1 and run through January 31, 2024. The state is offering a rebate of up to $4,000 for all-electric vehicle purchases by Illinois residents (there is also a $1,500 rebate for all-electric motorcycle purchases).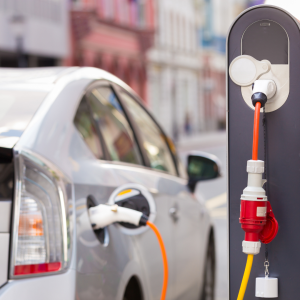 This rebate was first made possible because of the Climate & Equitable Jobs Act (CEJA), which aims to reduce carbon emissions and reach a goal of 1 million EVs on Illinois roads by 2030.
Important: Rebates are subject to the availability of funds in each cycle. Applications are processed in the order they are received, with lower-income applicants receiving priority. So it's best to submit yours as soon as possible once the cycle opens on Nov. 1. 
In order to qualify for the rebate, you must:
Live in Illinois at the time of purchase of the vehicle and when the rebate is issued.

Apply within 90-days of vehicle purchase. (That means if you bought an eligible vehicle on Aug. 3, you could still apply for the rebate if the completed application is postmarked on the first day of the funding cycle on Nov. 1, according to the state's

Frequently Asked Questions.



Purchase from a licensed Illinois dealer. Rented or leased vehicles are not eligible.

Retain ownership of the vehicle for at least a year after the purchase date.
The application and instructions will be posted on this Illinois Environmental Protection Agency (EPA) page on Oct. 18. This gives interested applicants two weeks to gather the required documents. 
Documents you'll have to submit include:
Copy of the bill of sale, purchase invoice or agreement from an Illinois dealership;

Proof of purchase showing no remaining balance exists (ex. Canceled check);

Copy of the vehicle registration or temporary permit provided by the dealership;

IRS W-9 or W-8 form
A great resource for more information on the program is the Illinois EPA program website. (Scroll to the bottom of the page to sign up for their EV Listserv.)
If you're considering purchasing an EV, order a free copy of CUB's EV Buyer's Handbook to help you decide whether an electric vehicle is the right choice for your needs. Also, use our EV-Calculator to see how much you could save with an EV.