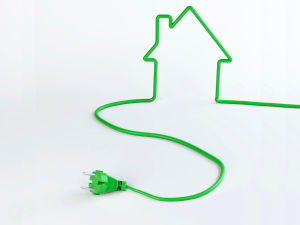 We asked our e-newsletter recipients for their energy success stories, and we received many great testimonials on how you're using clean energy to cut costs. Here are a few of our favorites.
Derek, Oak Park
Using state and federal clean energy rebates, Derek was able to achieve a significant reduction in his home's carbon footprint by installing solar panels, making energy efficiency upgrades and swapping out gas appliances for electric ones. "As a homeowner, there are significant steps I can take to do my part in eliminating my own personal climate pollution: replace our appliances with electric ones and generate free, clean energy with rooftop solar panels," he wrote. "We don't need to wait for some new technology to be invented, or some new program to make this transition. We can start now, and do our part to save the planet, improve our quality of life, and save money in the long run."
Robert, Chicago
Robert participates in ComEd's Hourly Pricing program, which charges an electricity supply rate that can change hourly. (Read CUB's ComEd Hourly Pricing factsheet and see CUB's Electric page for more information on utility special pricing programs.) If you can avoid heavy electricity usage during high-priced times, you can save money. In fact, the average customer is saving about 15 percent on the supply portion of their bill. "We shifted our laundry and dishwasher to overnight operation using built-in delay timers in the devices," he said. "We have saved 25 percent in energy costs since making the switch."
Ed, Carlinville
Ed switched out his air conditioner and furnace for an energy-efficient heat pump system. "The great thing about air source heat pumps is that they offer you more bang for your buck by functioning as a heating source in the winter and, using the same technology in reverse, an AC in the summer," said CUB's new Carbon Free Buildings Coordinator Joey Lee. Read CUB's Better Heat Guide and Heat Pump factsheet to learn how you can make the switch too.
Kathy, Chicago
Kathy has insulated her home, installed solar panels, bought an electric stove and an electric heat pump dryer and installed a heat pump. "I hope to later this year or early next year put in a heat pump water heater at that point I will be 100 percent electric in a 110-year-old house!" she said. Read CUB's Guide to the Inflation Reduction Act to learn how you can use federal rebates for these electric appliance upgrades and CUB's Solar Guide for more information about solar energy in Illinois.
Michael, Lincolnshire
A few years ago, Michael learned about the Community Solar program, which helps participants enjoy the benefits of solar without having to install panels on their property. The program allows consumers to save money on their electric bills from energy produced by large, offsite community solar projects, similar to how you would save on your electric bill if you installed panels on your own property. Michael signed up, and he said: "I started saving money on my electric bills… For the first 2-year contract ending 1/1/23, I have saved $303.26."
Jim, Berwyn
Jim installed solar panels in 2020, with the help of CUB's group-buy program, which secures volume discounts for quality solar installations based on how many people take part. "It's been great. My bills are just over $14 per month and I figure I have saved $1,146 on electricity costs during that time," he said.
Read CUB's Clean Energy page and blog What is Electrification? A CUB Explainer for more information.