This is an evaluation of Ampion's community solar offering. (If you are not already familiar with community solar, we recommend reading our Introduction to Community Solar first.)
How will signing up for the Ampion community solar offer affect my electric bill?
Ampion will look at your energy usage history to determine your subscription size, measured in kilowatts (kW). Each month your subscription will produce solar energy, measured in kilowatt-hours (kWh).
Once the community solar project you are assigned to is completed, your monthly electric bill will be reduced by the community solar bill credits. You will also pay a second monthly bill to Ampion.
Even though you are now receiving two bills, you will still save money overall.
On your utility bill, you will see a credit for your community solar subscription. Ampion will bill you for the energy generated by your subscription, with a 10% discount applied. That's where the savings come in. The total amount you save monthly will vary as the solar production of your subscription varies. Based on your billing cadence, you may see a delay of 1-2 billing cycles before your credits are automatically applied to your electric bill.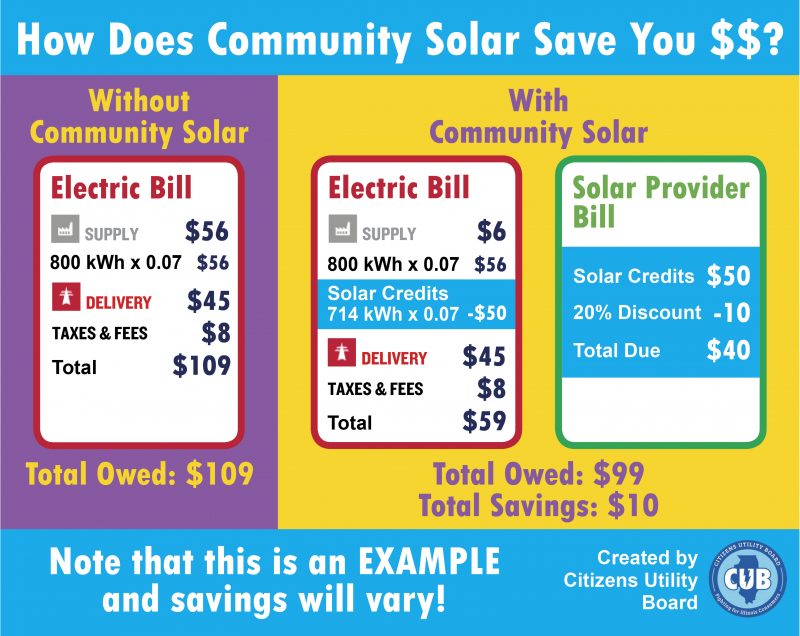 What about alternative suppliers?
Warning: If you are currently enrolled with an alternative supplier, this could jeopardize your community solar savings. CUB has heard that some alternative suppliers will not credit you for your community solar subscription at the same rate as you are being charged for electricity. Consider canceling the plan with your alternative supplier when you sign up for community solar.
What does CUB think about this offer?
Community solar allows more Illinois consumers to enjoy the benefits of renewable energy, and CUB is pleased to see these offers hit the market.
Ampion promises 10% savings over your utility's energy supply price. Other community solar companies are offering 20% savings. Visit Solar in the Community to see CUB's analysis of other offers available in Illinois.
This chart summarizes key points about the Ampion deal:
| | |
| --- | --- |
| What utility territory does the company serve? | Ameren and ComEd. |
| Does the company offer savings? | Yes. Ampion offers 10% off the utility default supply rate for the community solar bill credits you receive. |
| Is there a credit check when I sign up? | There is a soft check. |
| What is the contract term? | 5 years with 2-year auto-renewals |
| Is there an "exit fee" for leaving the contract early? | No. |
| What are my billing options? | Dual billing, autopay required. |
When will my subscription go live? When will I start to see credits on my utility bill?
When you sign up for a community solar offer, you may experience a delay before you see credits on your utility bill. This is because the community solar garden to which you are assigned may not yet be completed. When working with an Ampion sales representative to sign up, ask what the estimated wait time will look like. The representative should be able to give you an estimate.
What happens if I move?
If you move within your current utility territory you can take your community solar subscription with you. If you move outside of the utility territory, you can either assign your subscription to someone else (that person must first properly enroll in the community solar program, including reviewing all of the applicable Illinois Power Agency (IPA) Disclosure forms) or you can cancel with no penalty.
Can I sign up for Ampion's offer and a real-time pricing program?
If you are enrolled in Ampion's community solar program you can also participate in Hourly Pricing with ComEd and Power Smart Pricing with Ameren.
How do I sign up?
To enroll in Ampion's community solar program, visit Ampion's website. CUB recommends comparing multiple offers before signing up. See all offers available to you at Solar in the Community.
Have you signed up for a community solar program?  Let us know about your experience!