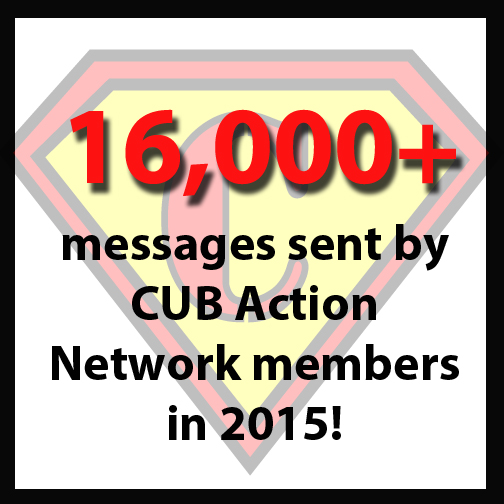 CUB Action Network members have been busy busy busy in 2015!
Members sent 16,461 messages to regulators and legislators to reduce rate hikes, save phone service, preserve the open Internet, and protect consumers.  Check out the actions you've taken in 2015:
308 asked legislators to reduce ComEd and Ameren's $436 million rate hikes.
2,445 asked the IL General Assembly to reject Exelon revenue boost.
3,967 asked the governor to veto automatic rate hikes for ComEd and Ameren.
1,940 asked the FCC to protect traditional home phone service.
1,159 asked regulators to reduce a $70 million Peoples Gas rate hike.
3,106 asked the FCC to preserve the free and open Internet.
1,864 sent a special Valentine's message to AT&T to save traditional home phone service.
333 asked regulators to deny Ameren's $53 million natural gas rate hike request.
657 asked regulators to deny a $5.7 billion merger between Wisconsin Energy and Peoples' parent company until Peoples' expensive gas pipeline replacement program is thoroughly investigated.
682 requested regulators make public a Peoples Gas audit that allegedly exposed mismanagement of its pipeline replacement project.
We're only in the first quarter of 2015, and there's plenty more fight to be had in the upcoming weeks!  Join CUB Action Network today to stay updated on the latest battles and help us protect your pocketbook.