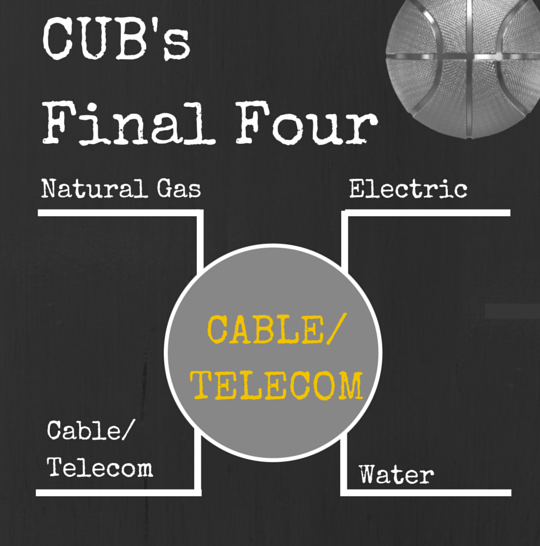 Results are in for CUB's Final Four of Worst Utility Bills, and the "winner" is….
…Cable/Telecom!
We asked CUB Action Network members what their worst utility bill was and people couldn't wait to trash talk Big Cable and Telecom.
"With Gas, electric and water we can control how much we use and adjust if necessary," one survey respondent said.  "I can not do this with my cable/satellite bill. We pay for many more channels than we will ever watch just to get the few channels that we do watch. It's time to be able to pick the channels we want without paying for those we don't!"
Here are the full results of CUB's survey for worst bill:
Cable/telecom…62 percent (314 votes)
Electric… 18 percent (91 votes)
Natural gas… 12 percent (61 votes)
Water … 8 percent (41) votes.
Thanks to everyone who cast a vote.  And congratulations to Jackie C. of Loves Park, IL for winning a $25 Amazon gift card for taking CUB's survey.
Your bills may be brutal, but learn how you can save money with CUB Energy Saver, CUB's online tool that builds a customized energy-saving plan for your home and rewards users for cutting energy-use.  The service is free and has been showing consumers how to potentially shave hundreds off their bills!