We were overwhelmed with responses to our October poll asking people to share their best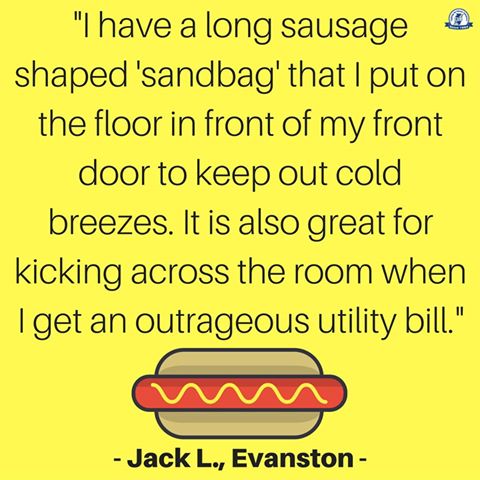 winter efficiency tip.
We randomly selected one respondent–Jack, from Evanston–to win $100. His tip turned out to be one of the most unique out of the 200+ responses we received. Jack said he has a "long, sausage-shaped 'sandbag'" that he puts on the floor in front of his front door to block out the cold breezes.
"It is also great for kicking across the room when I get an outrageous utility bill," he joked.
Congratulations Jack! Hopefully you'll give that sandbag a break, now that you have $100 to take the edge off those utility bills.
Some other answers:
Ben from Crystal Lake recommends planting evergreens to block winter winds. (The Arbor Day Foundation says to plant the trees on the north and northwest corners. Keep the southern end clear, so the sun can warm your home.)
Dale from Griggsville says ceiling fans aren't just for the summer. They can help distribute heat throughout a room (Note: Run the fan clockwise, from your position looking up at it, in the winter. In the summer, run it the other way.)
Extra layers instead of turning up the heat.  And after I use my oven (and turn it off), I leave the door open and enjoy the extra warmth. –Marge, Downers Grove
Add an extra blanket onto the top of your comforter.  That extra layer lets you dial the heat back in the middle of the night and save energy.  Also helps to have slippers at your bedside or socks on your feet if you do need to get up in the middle of the night! –Paige, Elgin
Every year I insulate all my windows with plastic. It is kind of a pain and doesn't look that amazing, but it saves me real money. -Bryanna, Chicago
Many of the tips didn't involve a trip to the hardware store. On a below-zero day, do the best with what you have until you can make more permanent improvements. "I place beach towels at the bottom of my sliding glass door where there's a bit of a draft," said Marian of Schaumburg. "I know I should replace the doors, but that's on my to-do list."
Finally, John from Chicago gets the award for most ambitious plan to beat the cold: "Move to Miami!"
John–we like the creative answer–but we're not ready to buy our plane tickets just yet. We're currently compiling some of the best responses to put in an article in our quarterly newsletter, The CUB Voice, so be on the lookout for that! In the meantime, read our guide to energy efficiency for all seasons.