Thanks to your generous support, CUB helped saved Illinois consumers some $35 million in 2016, and we secured a major victory in Springfield. But we have more battles in the new year. 
Policy Team: Efficiency victory in Springfield
CUB helped pass the Future Energy Jobs Bill (Senate Bill 2814). We supported the legislation because it requires ComEd and Ameren to dramatically improve their energy efficiency programs and reduce electricity waste by up to 21.5 percent, lowering our power bills by at least $4 billion through 2030.
Legal Team: $35 million in savings
We helped win $35 million in legal victories for lower utility bills. (Helped secure an $18.5 million gas refund package, helped reduce ComEd's rate hike by $2.3 million, and helped reduce Illinois American's hike by $14.2 million.) Plus, the legal team successfully fought for state regulators to pass stronger consumer protections against electric rip-offs.
Outreach Team: $148,787 in savings 
-CUB's Outreach team helped host 475 events this year, showing customers how to save an estimated $148,787 by analyzing utility bills, handing out energy-efficient light bulbs, and signing up people for efficiency programs.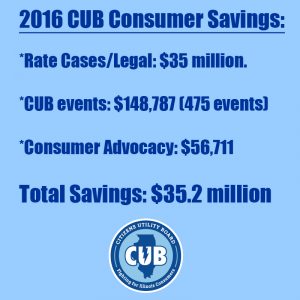 Advocacy Team: $56,711 in savings
The Consumer Advocacy team fielded thousands of inquiries about utility companies and generated $56,711 in savings by advocating for consumer rights, spotting billing errors and securing refunds for people who contacted CUB.
CUB Action Network: 55,000 messages
This year, members of CUB's Action Network generated more than 55,000 emails/petition signatures urging politicians and regulators to fight high bills and rip-offs. If you haven't already, join at CitizensUtilityBoard.org.
Statewide Education Campaign: New cable guide
CUB created a 19-page guide to help pay-TV customers cut their bills, and then distributed it for free in our first-ever statewide education campaign focusing on cable customers.
2017 Challenges        
But we're not done—not even close, and that's why we need your help in 2017. Here's the plan for January:
-Fight for a bigger Ameren decrease ($21 million).
-Challenge ComEd's $127 million rate hike.
-Challenge Illinois American's $35.3 million rate hike.
-Fight to fix a Peoples Gas pipeline program that has been rife with wasteful spending and could cost customers $8 billion.
Please, join our team by making a year-end, tax-deductible contribution to CUB. We'll work hard for you in the new year!