Most natural gas customers in Illinois will see higher gas rates in January, according to new numbers released by utilities.
The most notable increase is Nicor, which is at 42 cents/ therm this month, up from 27 cents/therm this time last year. Liberty Utilities is the lone utility with a decrease since last year, down a few pennies to 39.6 cents/ therm.
These rates are in line with predictions from the Energy Information Administration (EIA), the statistical arm of the Department of Energy. The EIA says Midwest gas customers can expect to pay up to 30% more this winter.
However, despite the increase, prices are still lower than the average prices of the past decade, the EIA said.
Energy prices last winter were especially low, with warmer-than-normal weather reducing heating demand to the lowest level nationwide in at least 25 years, according to the EIA. Last winter, Crain's Chicago Business reported that bills were down between 12.5 percent to 23 percent.
See the other rates for January below: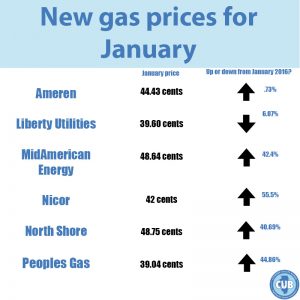 If you haven't already, check out our energy efficiency page to keep your costs down, no matter the price of gas.