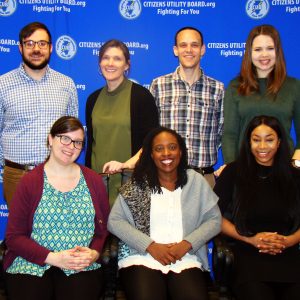 Members of CUB's legal and policy teams aren't the only ones helping Illinois consumers save money this year.
According to CUB records, the outreach department—which holds money-saving events across Illinois—showed consumers how to cut their utility bills by roughly $18,375.72.
The nine-member team spends most of its time out in the field teaching everyday customers how to cut their utility bills. So far, the department has represented CUB at 62 events from January through March.
You can find CUB's bright-eyed and smiling staffers hosting speaking engagements at local libraries and/or staffing tables at community fairs. Other times, they're holding utility bill clinics which tend to be the watchdog's most sought-after events.
At utility bill clinics, outreach members sit down with consumers to analyze their electric, gas and phone bills. During this process, the experts break down and explain confusing charges, spot bad alternative electric and gas supplier deals, and show attendees how to cut costs.
As the first quarter comes to a close, CUB has helped electric, gas and phone customers save a total of $1,097.85 a month, or potentially $13,174.20 a year.
Along with expert advice, the outreach team also passes out free money-saving Compact Fluorescent Light (CFL) bulbs and helps people sign up for special programs that can cut their electric and gas bills, like Ameren's Peak Time Rewards program and ComEd's Peak Time Saving program. Through program sign-ups the team potentially saved consumers a total of $17,277.87.
CUB's outreach department appears to be ending the first-quarter of the year with a bang—and it doesn't look like they're losing steam!
Learn how to lower your energy bills at a money-saving event near you!