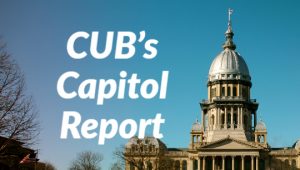 The General Assembly met in Springfield this week for the first time in 11 weeks, and the COVID-19 pandemic was understandably at the top of the legislature's agenda. As talk turns to Illinois finding a way to pull out of this crisis, it's vitally important that we remind our leaders that there already is a bill that would be a great boost to the state's economy: the Clean Energy Jobs Act (CEJA).
"We are thankful for the leadership of Gov. J.B. Pritzker and the General Assembly during this awful pandemic," CUB Communications Director Jim Chilsen said. "CUB believes that CEJA is even more important to pass now. Not only would it protect most Illinois electric customers from a big increase in bills, but it also would be a shot in the arm to the ailing economy."
For more than a year, CUB, as part of the Illinois Clean Jobs Coalition, has pushed CEJA because it offers a blueprint for a consumer-friendly way to get to 100 percent renewable energy. It would expand energy efficiency programs that have already saved Illinois consumers billions of dollars, and implement market reforms to protect power bills from a Federal Energy Regulatory Commission (FERC) ruling that threatens ComEd customers with an increase of hundreds of millions of dollars.
But as we suffer the worst economic crisis since the Great Depression, CEJA also would create solid jobs in the clean energy industry and draw $30 billion in private renewable energy investment to the state. We need CEJA now–for it's economic benefits, but also because it must pass this year to protect consumers from the electric hike.
Please join the fight for clean, affordable energy and urge Gov. Pritzker and the General Assembly to push for CEJA's economic recovery provisions and its protections against high bills.