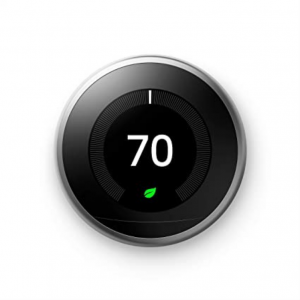 ComEd customers can now purchase a Google Nest thermostat—a device that can help you cut your heating and cooling costs—at a deep discount: $1 through Oct. 11. 
Who is eligible for the $1 Nest thermostat offer? 
The offer is only available to ComEd customers through the utility's online buying platform: ComEd Marketplace. 
The retail value of a Nest begins at $129.99 but for a limited time only, customers can buy it for just $1 (plus tax and shipping). This discount expires at 11:59 p.m. Oct. 11. 
To enjoy the full benefits of a Google Nest Thermostat your home should have Wi-Fi. 
What is a Nest thermostat?
Nest thermostats are one brand of smart thermostats—devices connected to Wi-Fi that allow you to remotely modify your temperature settings from your smartphone, tablet or home computer. 
What are the benefits of a Nest thermostat?
Smart thermostats use sensors that continuously monitor temperature and other variables throughout your house. According to Nest, customers can save up to 10-12% on their heating costs and up to 15% on cooling. 
Where can I find more information?
This promotion is part of ComEd's million smart thermostat program launched in 2015 in partnership with ELPC and CUB and support from the Illinois Commerce Commission (ICC). 
For more information, please visit https://secure.comed.com/marketplace/product/google-nest-4th-generation and CUB's Smart Thermostat fact sheet.