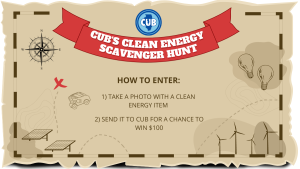 For Energy Awareness Month, we're holding a "Clean Energy Scavenger Hunt" for a chance to win $100.  
Fossil fuel prices are skyrocketing right now, but we hope this challenge is a positive reminder of how energy efficiency and other clean energy efforts can lower bills. And one lucky person will be randomly selected to win $100 off their utility bills!
Here's how to enter: Take a photo of yourself, your pet or a family member (be creative!) with one of the following clean energy items:
Your electric vehicle (EV) or an EV charger in your community

Energy efficient appliance in your home (smart thermostat, or any appliance with the Energy Star label: light bulb, fridge, microwave, etc.)

Solar panel in your community

Wind turbine
Fill out the form here, and then send your picture by replying to the thank you email you get. We will use the best photos we get on CUB's social media platforms.
The deadline to enter is midnight Oct. 31, and we will announce a winner Nov. 1.