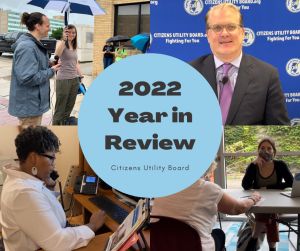 By David Kolata
CUB Executive Director
This has been a tough year, with skyrocketing energy bills, thanks to volatile natural gas prices and aggressive utility spending. The CUB team needed Illinois consumers in 2022, and you came through for us. Thank you!
Please know that our goal every year is to live up to your support, and be the hardest working consumer advocates in the country. I've asked some of the advocates at CUB to summarize the consumer-defense programs Illinoisans have supported this year.  Their reports are below.
---
The Consumer Advocacy Team, Sandra Marcelin-Reme, Director 
My team has handled more than 3,000 consumer inquiries/complaints this year, and saved individual consumers more than $45,500, including Charles, who saved $2,700.
"Now the gas company isn't doing anyone any favors, they're going to try to get what they can, what they feel that they are owed," he said. "CUB intervenes and makes sure the consumer isn't hoodwinked or however you'd say it by the gas company or any other utility."
Over CUB's history, the department has handled more than 200,000 inquiries and saved consumers more than $1.2 million. (Watch the video highlighting CUB's consumer advocacy work.)
---
The Outreach Team, Ivonne Rychwa, Director
My team this year staffed more than 380 free events across Illinois, from Carbondale to Rockford and many towns in between. We hold a lot of events over Zoom, but also help consumers in-person at community centers and public libraries. Our virtual utility bill clinic service allows people to email us their bills ([email protected]) to analyze them for potential savings. That's how we helped Carolyn save more than $600 after ComEd was trying to wrongly charge her for her ex-husband's utility bills. "They were absolutely instrumental in helping me resolve my case," she said of CUB. "Like magic, everything was reversed and his charges were removed from my bill."
At a time of soaring energy prices, CUB's Outreach team also promoted Grow Solar, a program that makes it easier for consumers to install solar panels. "Now is a perfect time to consider going solar," said Marina Minic, Solar Programs Administrator at CUB, which partnered with the Midwest Renewable Energy Association (MREA) in the program. "Adding solar panels can lower your energy bills right away, and unlike utility companies, those panels will never raise their rates." (See Marina's interview on WGN-TV–"Thank you for having me so I can talk about solar today.")
Grow Solar ended 2022 with 76 properties contracted to install solar panels–a potential total savings of more than $71,000 for participants in the first year alone. 
---
The Legal Team, Julie Soderna, General Counsel
Our two-person legal team—Regulatory Counsel Eric DeBellis and I—tackled about 20 cases this year. We fought for a customer refund in the wake of the ComEd scandal, and eventually, state regulators approved $38 million. (We think consumers deserve more!) Also, we helped secure big refunds for electric customers ($434 million for ComEd customers, and $50.8 for Ameren Illinois customers), forcing the state's two biggest electric companies to share massive discounts they received on their corporate tax bills in a much faster schedule (three years) than they ever wanted.
In terms of rate cases, we helped save Illinois consumers about $30.5 million:
We helped cut Illinois American Water's increase by about $14 million. The largest private water company in the state had requested a $100 million rate hike, and on Dec. 15 the Illinois Commerce Commission (ICC) granted it $85.4 million.
We helped cut Ameren Illinois' rate hike by about $16.5 million. Ameren had proposed an $83.2 million rate hike, and on Dec. 1 state regulators granted it an increase of about $61 million. It was the last increase under a "formula" rate-setting system that CUB called a "raw deal" for consumers over the last decade.
On Nov. 17, ComEd received a $199 million rate hike–its last under the anti-consumer formula system. "This is a parting shot from a system that was a bad deal for customers from the start," CUB said. "We're glad to say goodbye to formula rates. We'll work hard next year to implement a new, more consumer-friendly rate-setting system that gives ICC commissioners more authority, under the Climate and Equitable Jobs Act (CEJA)."
The new system, called for by CEJA, includes a set of performance metrics, paired with a multi-year rate plan, designed to help Illinois electric customers secure more reliable and affordable electricity service. There's a lot of work to be done to implement this new system, and CUB will be part of it, defending consumer interests. Expect major rate-hike battles next year under this new system.
---
Governmental Affairs, Bryan McDaniel, Director 
After years of hard work, CUB helped pass a bill that banned misleading marketing practices by home maintenance plan providers. "I would like to thank CUB for its partnership as we work to protect residents from high utility rates and unnecessary fees," said Illinois Attorney General Kwame Raoul after the passage of the bill.
Also, thanks to a consumer-protection provision CUB worked for in the Climate and Equitable Jobs Act (CEJA), ComEd customers are seeing $18-20 monthly bill credits that could total $1 billion over the year.
We'll keep fighting other important battles, like reining in the out-of-control spending by gas utilities, and working to give communities a voice before private corporations buy up their water systems and jack up prices.
Despite our challenges, this year the Energy Information Administration (EIA), the statistical arm of the Energy Department, released figures that showed Illinois has had the lowest average electric bills in the Midwest for 10 straight years.
---
Communications, Jim Chilsen, Director  
The communications team is most proud of these free resources we offered this year:
CUB often made headlines fighting for lower utility bills, including speaking at a news conference with key sponsors of CEJA, calling on the power grid operator  in Central and Southern Illinois (the Midcontinent Independent System Operator, or MISO) to fast-track clean energy generation projects that could help bring down power bills in the region. "I join Illinois consumers in urging MISO leadership to stop the delays and get the job done," I said at the news conference. 
Also in 2022, the communications team successfully organized our first-ever online event, called the "Power of CUB," that thanked Illinois consumers for all their support. Former CUB Executive Director Marty Cohen made a surprise guest appearance playing the Beatles' "Here comes the Sun." Catch it again at CitizensUtilityBoard.org/CUBCelebration.
---
A heartfelt thanks to you! We couldn't do this without your support. But you know our work is never finished–in 2023 we will need you in the fight for lower utility bills, cleaner energy and consumer protections. Please check on your friends, family and neighbors and make sure they're staying safe and warm this winter.