In a nationwide analysis of 2020 and 2021 data reported by electric utilities, CUB found that the country's most expensive power bills tend to be concentrated in states with th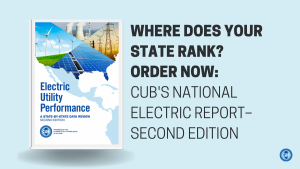 e largest share of energy harnessed from coal, oil and natural gas.
Consumers in the northeastern and southeastern regions of the U.S., where fossil fuels are a larger share of the grid's energy portfolio, tended to have higher electricity bills according to the study. The northeast particularly has a challenge with intense heating needs in the winter thanks to oil, propane and natural gas heating. 
"The war in Ukraine has definitely exacerbated a problem that already existed, but higher consumer costs were endemic to fossil fuel use before that conflict began," CUB Executive Director David Kolata said in a statement. "Policymakers should understand that it's a fact of life that predates the war and will likely outlast it, and it's all the more reason why we should expedite the shift to cleaner resources."
The results were documented in CUB's second annual report Electric Utility Performance: A State-by-State Data Review. 
CUB's research covered data that utilities in the United States submit annually to the federal Energy Information Administration (EIA) and the Environmental Protection Agency (EPA). The report ranked each of the 50 U.S. states and the District of Columbia on the performance of the utilities operating within their boundaries. Each state was ranked according to benchmarks for three customer priorities of electric utility service: affordability, reliability, and environmental responsibility. 
By cross-referencing the environmental records of the utilities in the states that ranked poorly in affordability, CUB identified a correlation between higher consumer costs and greater dependence on fossil fuels like natural gas and oil. CUB's national utility performance report is designed to provide policymakers, companies and the public with a yearly reference point to see if utilities are honoring their core commitments to customers (or not). 
"At a time when nearly 34% of American households reported skipping basic expenses to pay their energy bills, it's never been more important to monitor the performance of the nation's electric utilities," Kolata said. "We hope the data collected in this report help policymakers identify the actions needed to optimize that performance and protect consumers."
For Illinois, consumers, here's a rundown of how Illinois ranks in key metrics: 
Overall utility performance: Illinois ranked fifth, behind Washington, Nevada, the District of Columbia and South Dakota, respectively. West Virginia came in last for the second consecutive year. 
Affordability:  Illinois ranked 10th, moving up two spots from the state's 2021 ranking. Utah was No. 1. (For the tenth straight year, Illinois in 2021 had the lowest average electric bills in the Midwest.) 
Reliability: Illinois dropped eight spots, coming in 13th overall. That could be due to the derecho, an intense windstorm that left a path of destruction across the Midwest in August 2020 and led to widespread power outages in Illinois. 
Environmental Responsibility: Illinois moved up eight spots to come in 12th overall. 
You can read more in the full report and see more on CUB's Research page.