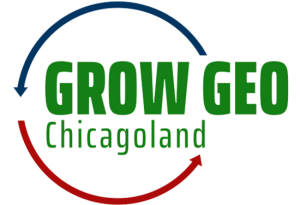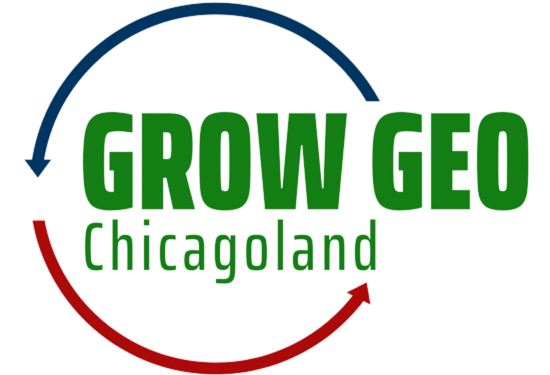 By: David Weaver
Carbon-Free Buildings Coordinator 
The U.S. Environmental Protection Agency says that geothermal heat pumps are the most energy-efficient system to heat and cool buildings and water. But how do they work? Will they work for my home? How much money will it save me? Should I make the investment? And just what is a group-buy?
When I was asked to research a few questions about geothermal heat pumps for a consumer, I had no idea it would lead me down a path to talking to consumers and experts across our state, visiting networked geothermal buildings and helping to develop a group-buy to reduce barriers for consumers. Keep reading to learn about these incredibly efficient systems and if our group buy might be a good fit for you.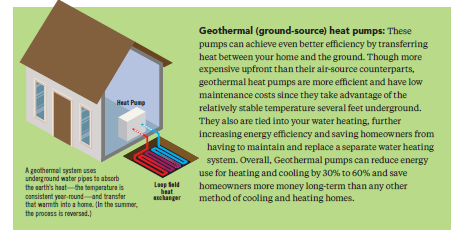 What are geothermal heat pumps and how do they work?
Heat pump systems are another method for heating and cooling your home in a more energy-efficient and cost-effective manner. Much like a refrigerator, heat pump systems utilize electricity to move heat from cool spaces to warm spaces and vice versa. In the case of geothermal heat pumps, they move heat from the ground to your home or from your home to the ground. They can even move this heat to your water providing extremely efficient water heating. Because heat pump systems move heat rather than generate it, they are a more economically sound way of warming your home. Geothermal heat pumps can reduce energy costs by up to 70 percent compared to traditional heating and cooling systems.
 Are they capable of keeping my home comfortable?
Geothermal heat pumps are incredibly reliable and capable of ensuring comfort for homeowners year-round. Whereas furnaces and most radiators rely on burning natural gas to create heat, geothermal heat pumps simply move heat to and from the ground which is much more energy efficient. And as the ground a few feet below the surface remains in the 50–60 degree temperature range year-round, these systems are resilient to extreme weather conditions. Just be sure your installer uses the Air Conditioning Contractors of America Manuel J for heat gain-heat loss calculations. That will ensure they "right-size" your system (make it the optimal size) and perform yearly maintenance. 
 (Got a good story about a heat pump? Reach out to CUB's David Weaver.) 
What's this going to cost and save me?

There are many variables when factoring in both the upfront cost and energy savings associated with installing geothermal heat pumps. The prices can vary significantly based on the home, labor costs, drilling costs and model type. However, $30,000 is a representative price for your average-sized home. Fortunately, there has never been a better time to install such a system, as there are many incentives to help reduce the cost of geothermal heat pumps.
The Inflation Reduction Act has created incentives for heat pumps that can be combined with existing utility company rebates. There is a 30 percent federal renewable energy tax credit for the total cost of installation. (This tax credit is uncapped, and it can be spread over multiple tax years.) On top of that, consumers can get a $2,000 energy efficiency tax credit for heat pumps. Learn more about IRA incentives. 
Some electric utilities also offer incentives for consumers who install geothermal systems. For instance, ComEd offers a rebate of up to $9,000, depending on the size of the system, for eligible customers. 
With the federal tax credits and utility rebates, the final cost of a geothermal system isn't that much greater than a conventional heating and cooling system. Studies show that geothermal installations can pay for themselves in energy savings in about six to eight years. 
Geothermal systems also typically last much longer than other heating and cooling systems since they contain no outdoor parts. The heat pump portion of the installation is indoors, while the loop field heat exchanger is buried in the ground. The heat pumps typically last 25 years and loop field heat exchangers are often guaranteed for 50 years.
Geothermal heat pumps are much more energy efficient than furnaces, radiators, air source heat pumps and A/C units, so they should also save you a lot of money. However, the amount of cost savings depends on the changing price of natural gas and electricity. In the state of Illinois, we have a relatively high cost of natural gas and low cost of electricity, which helps make geothermal heat pumps an even smarter decision. 
Furthermore, when you switch to electric heating, your electric utility company may offer you a lower rate, helping to save even more money. ComEd currently charges about two cents less per kilowatt-hour in delivery charges for homeowners who use electric heat. Additionally, because the geothermal heat pumps replace your heating and cooling, and your water heater, this can cut your yearly maintenance costs. Finally, if you fully electrify your home, you can eliminate the fixed costs from your gas utility company, potentially saving you hundreds of dollars a year. 
I put together these charts to give you a rough idea of the costs and benefits of a geothermal system.
Up-Front Cost

$30,000 (Estimated. Total cost depends on many variables.)

IRA Tax Credit(s)

-$9,000 Clean Energy Tax Credit

-$2,000 Home Efficiency Tax Credit

ComEd Rebate

-$6,000 (Up to $9,000 – $1,500 per ton)

Total Cost to Homeowner

$13,000

Yearly Estimated Savings

$1,750

Years to Return on Investment

7.4 years
What is a group buy and why should I consider Grow Geo Chicagoland?
Group buys are programs that bring people together to purchase a product or service at a discounted price. The idea is that by pooling resources, the group is able to negotiate a better deal with the seller than they would individually. 
Grow Geo Chicagoland works to reduce barriers to geothermal heat pump adoption.
Education: Grow Geo focuses on educating consumers on how geothermal heat pumps work. Interested in learning more? register for one of our "Power Hour" information sessions listed here, or send me an email at [email protected]. 
Bulk Savings: Group-buy programs often focus on helping consumers save money by uniting their purchasing power. If enough consumers join the group-buy, the installers will be able to make bulk purchases and pass the savings onto consumers. For example, if the program installs 50 tons worth of systems (an average home requires a 3-4 ton system), each participant will get a $50 rebate per ton. If 100 tons are installed, that rebate increases to $100 per ton, and if 150 tons are installed, that rebate increases to $150 per ton. So, homeowners could see a rebate of up to $600 if they installed a 4-ton system and over 150 tons were installed across the entire program. 
| | |
| --- | --- |
| Total Program Participation (in tons)  | Total Consumer Rebate Per Ton |
| 50-99  Tons | $50 |
| 100-149 Tons | $100 |
| 150 Tons or more | $150 |
Consumer Protections: CUB's mission is to represent consumers, and so consumer protections are central to this group-buy. 
The contract for geothermal businesses to participate in the program requires that each company has 75  percent or more of their installers tested and accredited by the Geothermal Alliance of Illinois (GAOI).

CUB and our partners at the Midwest Renewable Energy Association (MREA) and GAOI have the right to review any proposal between installers and consumers.
Installers must respond to consumer inquiries within two weeks of receipt.
Installers must provide contract language to customers ensuring timely installation. Contract language shall not include forced arbitration clauses that limit customer legal rights in case of contractor default.
Customer contracts shall require no more than a 20 percent down payment upon contract signing, with further payments due after delivery of equipment.
Installers must provide labor and parts guarantee for a minimum of 12 months.
Installers must register all heat pumps with the manufacturer and provide proof to MREA.
Interested: If you are interested in learning more, please check out our website, attend one of our Power Hours, and sign up for updates. If you are interested in co-hosting, supporting, or otherwise amplifying this group-buy, please let me know at [email protected]. 
How should I begin the process of switching to geothermal heat pumps?
Start planning now.

 Don't wait until your old heating or cooling system fails–plan ahead to determine the best contractor and best replacement. A crisis is not a good time for such important decisions: It can be expensive because contractors may charge extra for emergency service, and if your home is cold, you'll be pressed for time and may be tempted to buy the latest model of your old, inefficient system. Additionally, your installer may need time to route permitting papers through your local municipality. 

Weatherize your home.

 The first step for updating your heating and cooling appliances should be to complete a free 

Home Energy Assessment

 and/or a 

Home Energy Audit

. The free Home Energy Assessment or the much higher quality Home Energy Audit will help you prioritize insulation and weatherization projects for your home. Home Energy Assessments, which take up to 90 minutes, are utility-run programs where an energy expert tours your home to make energy efficiency recommendations and can provide (and install) energy-saving products (LEDs, low-flow shower heads, pipe insulation) for free. The Home Energy Audit–a much more comprehensive process that can take several hours–will test your home and show you where you lose heat due to unsealed windows or a lack of insulation. Improving your home's insulation will not only help you save money and make your home more comfortable, but it is a critical first step to installing a heat pump so you can insure you are "right-sizing" your heat pump and not getting a heat pump that is more powerful (and expensive) than what your home needs. (Pro tip: Avoid 

extruded polystyrene

 insulation to minimize your carbon emissions.)

Shop around to find quality geothermal heat pump installers. Our Grow Geo Chicagoland program will provide your information to quality installers if you decide to participate. However, if you are not interested in this program or you live outside the scope of it, the

Geothermal Alliance of Illinois

provides third-party accreditation of installers, and additionally, major geothermal manufacturers also maintain lists of qualified contractors (

ClimateMaster

,

GeoComfort

and

WaterFurnace

). This is a great starting place to find qualified installers. You should get at least three quotes and make sure you feel comfortable with an installer's professionalism, competency, timeline and price. Also, check the 

Better Business Bureau

 to determine if there have been any complaints filed against the company.

Take note:

Just because a company is certified doesn't mean the individual installer serving you is. Verify that the employee designing, installing and maintaining your system is certified by that manufacturer.   

Insist on load calculations. The proposal should always start with a load calculation. This means the installer measures the rooms and window dimensions and makes a list of the insulation values in attics, walls, and basements, along with window types and direction. All these details are needed to calculate the amount of necessary heating and cooling to keep the house comfortable (called heating and cooling loads). This is often called a "Manual J" (the name of a widely recognized load calculation procedure). "Bigger" is not "better" when it comes to heat pumps. In fact, "too big" can create significant performance problems. 
Ask questions. 

Consider asking your prospective installer the following questions to ensure you are working with a true professional to design and install your new heating and cooling system.
Can you provide references from previous customers with similar systems? 

How many heat pump systems have you personally designed and installed?

Have you participated in manufacturer training for this specific system? 

What level of certification do you (not your company) have with this heat pump manufacturer?

What are the available incentives or rebates, and will you aid in applying for them? 

Will I need to hire my own electrician to provide the electrical work? Will I need any electrical service upgrade to accommodate the heat pumps? (This is not unusual in older houses.) 

Will I need to hire my own plumber for water heating through the geothermal system?

Can you walk me through the heat gain and heat loss calculation? (They may not provide this on the first walk-through, but should be able to on the second.)

Do you use appendix J for the heat gain-heat loss calculation?

Will you use any subcontractors in the process? If so, who are they and what jobs will they do? 

Will you provide training for me on how to properly operate and maintain the system? 

Do you provide a warranty for the systems you install, and how long is it? 

Do you register the heat pump with the manufacturer (the answer should be yes!)?

Can I get a quote that details the equipment model numbers and itemizes any other parts and accessories for which I'll be charged? (Always ask this.)  If possible, try to get options for two or three alternatives from the same contractor so you can consider a range of choices, with some explanation of the differences and the benefits of each.) 

How do you plan on drilling the loop field and will I need to pay for any landscaping or fence work?

How long do you guarantee the loop field and how long should I expect it to last?
I live in a condo or a town home, or own a business, can I still install geothermal heat pumps?
Yes! While many people associate geothermal heat pumps for single family homes, geothermal is a great community asset. People who live in townhomes can either install a system just for their home, or partner with their neighbors for a larger system for all of them. Geothermal systems also work for multi-unit buildings, although this often requires approval through the condo or homeowner's association. Geothermal systems can also be designed to support both small and large businesses and commercial real estate. In fact, there are numerous colleges and communities, including Loyola University in Chicago and College of Lake County, that have large networked geothermal systems that support numerous buildings and provide savings. 
I have a small yard, a difficult to access yard, or I live in a very dense community, can I still install geothermal?
The simple answer is yes. The more complex answer is, it depends. These conditions may limit your options when choosing geothermal installers–as installers use different sizes of drilling rigs. Some drilling rigs will not be able to support homes in smaller places. However, smaller rigs are in the Chicagoland market and their numbers are growing. Ask geothermal installers if they can support your home or if they can recommend someone else who has the right drilling rig for your home. 
Learn More:
About the author: David Weaver  joined CUB in October 2022 after ten years of active duty Marine Corps service. His focuses include building decarbonization policy, educating consumers about electrification and energy efficiency, and bolstering relationships with stakeholders in the community. He earned his bachelor's degree from Marquette University and his master's degree from Prescott College. In his free time, David enjoys hiking and backpacking, cooking, and reading.