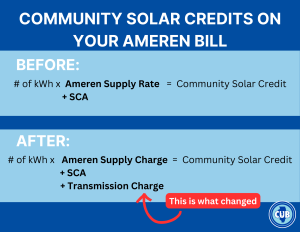 By: Marina Minic
Solar Programs Coordinator
Community solar customers in Ameren territory have seen "bill adjustments." CUB can explain:  
If you're subscribed to community solar, you get a credit on your Ameren bill that corresponds to the amount of solar energy your subscription produced. That credit shows up as a number of kilowatt-hours (kWhs) multiplied by a rate in dollars or cents. 
Previously, the number of kWhs was multiplied by your electricity supply rate plus the "supply cost adjustment" (SCA). But starting June 1, 2022, utility companies were expected to change their crediting methodology. 
Rather than multiplying the amount of kWhs by the supply rate and SCA only, Ameren is now supposed to multiply it by Ameren's Price to Compare (the Ameren supply rate, the SCA AND the transmission charge). 
However, when it came time to implement the change, Ameren's billing system was not fully updated. So, the utility continued to use the old crediting methodology (just multiplying the number of kWhs by the supply rate plus the SCA) until their system was fully updated. 
So for months, customers were receiving bill credits that were slightly smaller than they should have been and were therefore paying slightly smaller subscription fees back to their community solar companies.  
In October 2022, Ameren updated its billing system to 1) use the Price to Compare and 2) switch from kWh credits to monetary credits. 
In November, customers were rebilled by Ameren–and the utility had to make up for those months when they were crediting customers at a rate that was too small. For customers, this rebilling process resulted in a lump sum addition of credits on their Ameren bill. 
But because customers had been "under-credited" for those months, it also meant they were "under-paying" their community solar provider, since subscription fees are based on the size of the credit on their Ameren bills each month. This is why community solar customers are now seeing extra charges labeled as "bill adjustments" on their recent community solar bills.
Things to note:
Although you are being charged for these "new credits" by your community solar provider, you are also receiving a corresponding amount of credits on your Ameren bill. This means your credit bank on your Ameren bill should reflect what you are being billed by your solar provider. 

The good news is that under a change in utility policy, community solar excess credits no longer expire. 

Pay attention to your bill. If it seems like you are rapidly accumulating excess credits, you may want to reach out to your community solar provider and ask them to reduce your subscription size. If you are accumulating fewer credits each month, you will be able to use up your banked credits faster.  
For a more in-depth explanation, and a bill example, see the announcement made by the Illinois Shines program administrator, Energy Solutions.
About the author: Marina Minic joined CUB in February 2022 after graduating from UW Madison with a degree in chemistry and environmental studies. She helps coordinate the Grow Solar Chicagoland program and educates consumers about clean and affordable energy. Marina is interested in community organizing and enjoys building relationships with people and organizations across the state. In her free time, she enjoys drinking coffee and spending time outside.