By Sarah Moskowitz, CUB Deputy Director
This past Christmas Eve, as many of us were busy with last-minute holiday preparations, CUB rushed out an email to people in northern Illinois with this ominous subject line: ALERT: Power grid operator calls for energy conservation over the next 24 hours.
We were in the middle of Winter Storm Elliott, and PJM Interconnection, which oversees the grid serving ComEd customers in northern Illinois, made the unusual request that everyday customers conserve energy as "the risk of rotating customer outages is very real." 
Fortunately, PJM did not have to implement rolling blackouts to save the grid (other regions, however, weren't so lucky). But it was an unacceptably close call, and the fossil-fueled power generators who for years had sold themselves as necessary for grid reliability, failed to deliver. Elliott, and these generators' spectacular failure to show up when needed, exposed the myth of fossil fuel reliability. Let me break it down. 
How bad was Winter Storm Elliott? 
Elliott was a "bomb cyclone," a weather event marked by an extreme drop in atmospheric pressure, creating dangerous cold, high winds and heavy snow. This "once-in-a-lifetime" storm plunged 55 million people across the country into wind-chill alerts; at its height, it left 1.6 million customers without power; and resulted in more than 60 deaths. 
The storm brought record-low temperatures to parts of PJM's footprint, and resulted in higher-than-anticipated demand for electricity in many areas.  The possibility of unexpected electricity demand is nothing new, however.  PJM even runs a special "capacity auction" to ensure that when this happens, there are generators ready to step in and supply extra power when the grid needs it. That's what makes the events during Winter Storm Elliot so outrageous: Generators who had committed to provide the extra power failed to do so.
How did Elliott impact utility customers in Illinois? 
Illinois, with its ample nuclear power, didn't experience widespread outages. (We had a surplus of carbon-free electricity during the storm, thanks to strong policies like the Future Energy Jobs Act and the Climate and Equitable Jobs Act.) But conditions impacting another part of the power grid can threaten us all, especially with PJM. The largest power grid operator in the country, PJM covers 65 million customers in Washington, D.C., and all or parts of 13 states, from northern Illinois all the way to the Atlantic Coast. (Read about CUB's CLEAR RTO project to advocate for consumers at PJM.) 
Prompted by "continuing frigid weather" and power plant outages, PJM on Dec. 23 called for consumers in its region, including ComEd customers, to conserve electricity. So what went wrong? 
How did fossil-fueled power plants perform in the storm?
The Natural Resources Defense Council said: "By Christmas Eve, an astonishing 46 GW of power plants were out of service—enough to power California. What did nearly all these plants have in common? They were powered by fossil fuels, mostly gas. PJM reported failures across the gas system, including low pressure, frozen compressors, and simply no commercially available fuel."
While the fossil fuel industry has bragged that natural gas "defines reliability,"  the opposite was true during Winter Storm Elliott. Out of the nearly 46 GW of "forced outages"–representing 23 percent of PJM's total capacity–about 87 percent were natural gas and coal resources.
Ameren customers in Central and Southern Illinois are served by a different power grid operator, MISO, which reported that power plant outages reached about 50 gigawatts by Christmas Eve–about a third of the capacity that should have been available.  Out of that, gas made up 44 percent of the outages and coal 32 percent.
A "planned outage" is something a power plant might implement to do maintenance, while a "forced outage" is something sparked by an emergency–like Winter Storm Elliott. One senior energy analyst for the Union of Concerned Scientists wrote that the PJM outages happened for a number of reasons, including frozen pipes, equipment failures or a failure to buy the gas needed. "As we called reserves, a significant portion of the fleet failed to perform," PJM said, and more than 9 out of 10 outages were reported with less than an hour's notice, or no notice at all.
"Quite frankly, while a lot of resources did perform well, generator-forced outages were unacceptable," one PJM official said.
How did clean energy resources perform?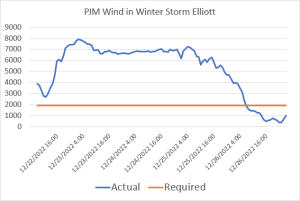 Meanwhile, wind and solar resources met the moment. In fact, because the storm brought high winds, wind farms actually outperformed, providing two-to-three times the energy they normally do Dec. 22-26, according to the UCS analyst (see chart). MISO also reported: "Wind production remained high during Winter Storm Elliott, providing support to the transmission system." 
How has PJM reacted in the wake of Winter Storm Elliott? 
The events of last December left the industry reeling.  In response to the catastrophe, PJM has…
Fined generators a total of

$1.8 billion

for not living up to their commitment under special reliability rules that were established after the polar vortex of 2014. (In response,

power plant owners, of course, have pushed back, arguing the penalties are unfair.

) Under these rules, PJM fines generators that underperform and send that money to generators that overperform. CUB thinks at least some of that cash should go to consumers for all their trouble in the so-called "capacity market."  We'll talk more about capacity below.



(Update: Ok, so get this!  Two days after we published this blog post, PJM held a stakeholders meeting in which PJM members voted to slash—by up to 90 percent!—the penalties generators would have to pay if they fail to meet their capacity commitments in the future.  As CUB put it in the statement we put out: "This narrow vote is nothing less than a bailout for fossil fuels that have proven over and over that they can't perform when customers need them most. Team gas is so frightened of non-performance that they need to change the rules and let themselves off the hook.")
A little background on capacity: CUB has written extensively about the "capacity payments" we make through our electric bills. The amount of these payments is determined by auctions that PJM manages, and the whole idea is to make sure generators have enough power on hand to keep the lights on during high-demand times, like a big winter storm. But the way they determine the amount of these payments isn't very consumer friendly–one analysis estimated we pay $4 billion more than we should on electricity because of inflated capacity prices. And in the wake of Winter Storm Elliott, we are of course left wondering why we are paying so much to fossil fuel generators if they won't even perform when we need them most. 
What do consumer advocates want? 
Consumer advocates agree that the system needs improvement–but that doesn't mean propping up the dirty, expensive power plants that failed us last winter. Here are a few key recommendations:  
Reform the interconnection queue.

Developers already have enough proposed wind, solar and battery storage projects (290 gigawatts) to power the entire PJM region. The big problem is these projects wait so long for final approval in PJM's "Interconnection Queue" that most will never get built. Without more low-cost clean energy deployment, capacity market prices will rise and consumers will be left paying higher prices for polluting fossil fuel plants.

PJM's recent interconnection reforms are a good first step

, but they're not enough. The Federal Energy Regulatory Commission (FERC) has proposed regional transmission planning and interconnection queue reforms that will help speed the process once they're finalized.

Build more transmission.

It is vital that clean energy has plenty of pathways to consumers. FERC's regional transmission planning proposal must put processes in place to ensure that transmission capacity is being added as quickly as possible, but at the lowest cost to consumers. This is a work in progress. 

Reform capacity markets so they conform to real-world performance.

Gas and coal power plants are often portrayed as reliable, but, as this blog has shown, their actual performance when we need them most doesn't measure up. PJM must accurately calculate the capacity value of existing coal and gas resources to improve upon reliability for the next weather event–whether that's a brutal winter storm or a brutal heat wave. 

Make sure consumers benefit from fines.

If PJM does fine a resource for underperforming, consumers, and not just other generators, should benefit from those fines. The customers who are paying for capacity should get half, at the very least.  
Read more about the issue here.
About the author: Sarah Moskowitz started at CUB in the summer of 2000 and has served in a variety of roles, from providing direct consumer services to managing the organization's statewide education and advocacy efforts. Sarah now oversees the development of CUB's clean energy outreach strategy in a way that uses policy research and community outreach to identify equitable and consumer-friendly climate solutions. She earned her bachelor's and master's degrees at the University of Chicago. She enjoys keeping tabs on the urban wildlife in her neighborhood, volunteer DJing at her local community radio station and reading about history.[/vc_column_text][/vc_column][/vc_row]