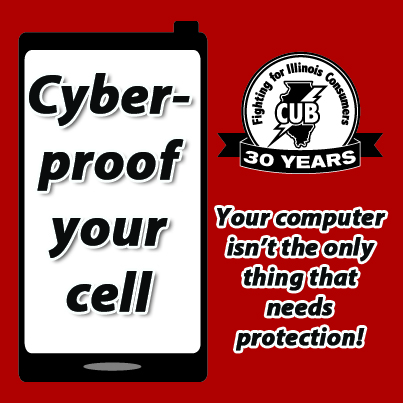 With maps, music, cameras, web browsing, and email capabilities, owning a cell phone can make you feel pretty invincible.  But did you know that your mobile phone can also leave you vulnerable to scary viruses and identity theft?
When we think "Internet security," our thoughts often don't stray from our desktop computers and laptops.  Yet, your cell phone also accesses the Internet– and all the bugs and threats floating around cybersphere.  Smart phones are specifically being targeted by criminals who wish to collect users' stored data–everything from your location to credit card information–to commit identity theft.
Fortunately, you can protect yourself with these simple tips:
1.) Install security software.  Your cellphone needs anti-virus software the same way your home computer or laptop does.  Many free security apps are available, such as Lookout,  Avast!, and 360 Security.  Security applications offer everything from simple malware protection, to data encryption and anti-theft protections.  Also, make sure you update your software regularly to shield yourself against the latest threats.
2.) Lock your phone.  Most phones have the option of password protection.  It may be a pain to enter in a password each time you use your phone, but you'll be grateful if your phone happens to be stolen or lost.  Make sure your password is something you'll remember that is not easily guessable by others.
3.) Use encryption.  Your phone houses a lot of private data– phone numbers, addresses, credit card numbers, bank account information, and more.  Going one step further than password protection, data encryption helps users avoid identity theft and the loss of sensitive data.  You can see a list of encryption software options for your phone here (many are free).
4.) Beware public WiFi.  At CUB, we often suggest people use WiFi on their phones to avoid using unnecessary data, which can hike up your phone bill.  However, public networks are often not secure and you should be wary lest any "eavesdroppers" on the network hack into your personal data.  Be especially careful to avoid personal banking, shopping, checking email or conducting personal business on public WiFi.
5.) Avoid scams.  The same rules for checking email and messages on your personal computer apply to your phone.  Don't click links in emails or texts.  Ignore ads or contests that promise free prizes or gifts.  Watch out for text messages that seem too good to be true.  Don't respond to requests for personal information from an untrusted sender.