Just four weeks ago, when CUB released a report on Illinois' electricity market, we warned consumers about bad power deals. Today, CUB and the City of Chicago took another step forward to reform the market.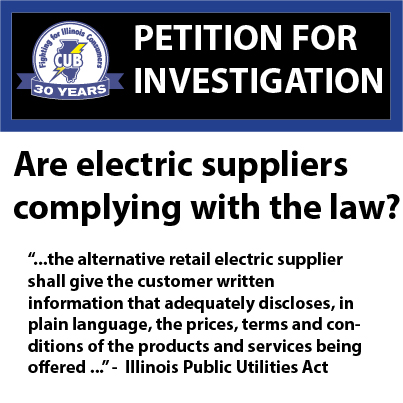 CUB and the City today filed a petition asking the Illinois Commerce Commission (ICC) to launch an investigation to identify power suppliers that are not complying with the Public Utilities Act (PUA). As  our petition points out, the PUA requires suppliers to communicate clearly the prices, terms and conditions of their offers.
But CUB has seen a 115 percent increase in complaints/inquiries about alternative electric suppliers–and we've heard some disturbing stories about confusing offers, misleading marketing, and the highest rates we've ever seen since Illinois' electric market began seeing competition in 2010.
How high? One Melrose Park woman reported paying about 35 cents per kilowatt-hour (kWh)–when ComEd's price to compare was 5.5 cents per kWh.
Chicago retiree James Robinson has paid as high as 13 cents per kWh since somehow being switched to an alternative supplier. He spoke at the news conference, along with CUB Executive Director David Kolata and Maria Guerra Lapacek, commissioner of Chicago's Department of Business Affairs and Consumer Protection.
"I don't have anything on but a washroom light and a light in the living room," he told reporters at CUB's news conference today. "You don't have to be a Rhodes Scholar or have a master's degree to know you've been messed with."
The City and CUB have asked that the focus of a probe, at least for now, be variable rate plans, which can change on a monthly basis. Those have been the source of the most egregious complaints CUB has seen.
We're confident the ICC will move forward with some type of review of the market. In the meantime, watch out for these potential pitfalls:
Exorbitant rates: CUB calls on suppliers to be more transparent about their pricing. Consumers should ask for details on the price, and how it compares to ComEd's rate, which is now 7.596 cents per kilowatt-hour (kWh). CUB has heard complaints from consumers about rates that are painfully higher–up to 35 cents per kWh.
Low introductory rates that disappear: Be careful about low introductory rates that shoot up after a short period. Always ask if the rate being offered is an introductory rate, how long it lasts, and what happens to the rate after the initial period.
Extra fees: Always ask if there is a monthly fee, and factor that into the per kWh price.
Punishing exit fees: Many suppliers charge exit fees of up to $175 if a customer leaves a plan before the contract is up. Under the law, customers are allowed to leave a contract without paying an exit fee within 10 days after the date of the first bill from a supplier.
High-pressure sales tactics. Beware of people who come to your door and say they're from the "electric company." Don't give out your account number or power bill to just anybody who asks for it. That person may be trying to "slam" you—sign you up for an offer without your permission. If you have any questions or doubts about an offer, please call CUB, at 1-800-669-5556, and we will do our best to answer your questions.