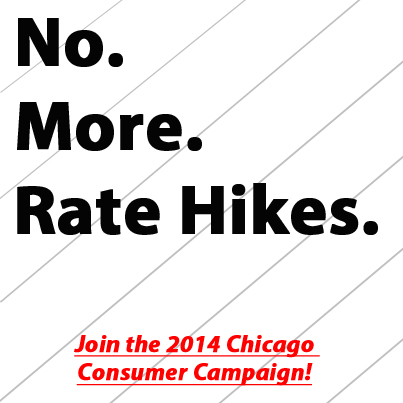 The utilities are at it again–asking for even more of your hard earned money.
ComEd is requesting a $275 million rate hike and Ameren is asking for a $206 million increase. These increases would represent a 12 percent and 29 percent jump in electric rates, respectively.  That's just unacceptable.
That's why we're asking Illinois consumers to sign a petition requesting the Illinois Commerce Commission (ICC) say NO to the exorbitant requests by ComEd and Ameren.
Over the past winter, Illinois consumers saw energy prices skyrocket.  Let the ICC know you can't afford another big jump in your electric bills–not when the parent companies of  ComEd and Ameren raked in  billions of dollars last year.
We're also encouraging active consumers like you to share this with your friends.  These rate hikes affect every single person in Illinois and we need a massive response to prevent them.  As a "thank you" for forwarding, we'll even send you a free energy-saving light bulb.
Join the 2014 Consumer Campaign and tell the utilities "No more rate hikes!"
Ameren customers can click here to sign the petition.
ComEd customers can click here to sign the petition.