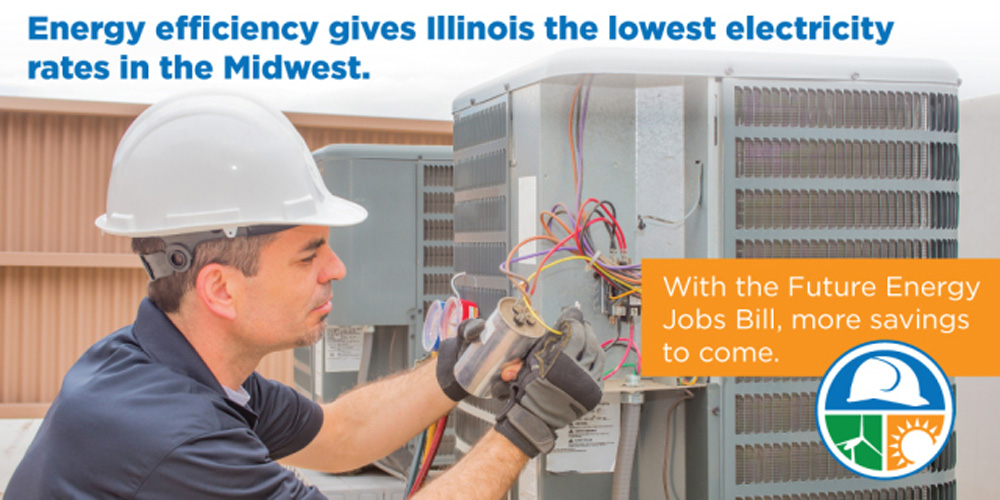 On the last day of the General Assembly's veto session, legislators passed Senate Bill 2814, a measure that will spark lower utility bills by establishing historic energy efficiency standards for Illinois' biggest electric utilities.
On Thursday evening, the Illinois House passed the measure, also called the "Future Energy Jobs Bill," 63-38, and the Senate followed, with a vote of 32-18. The measure now heads to Gov. Bruce Rauner's desk, and he is expected to sign it.
As with any compromise bill, CUB was not pleased with every detail. The bill will boost revenue at two nuclear power plants that owner Exelon had said were in danger of closing. However, after nearly two years of hard work in negotiations, CUB helped add major benefits to the legislation that made it a win for Illinois consumers.
Here's why CUB supported SB 2814:
This legislation will save consumers money.  When all of the costs and benefits are added up, we estimate that SB 2814 will save ComEd customers an average of $15 annually.  That's not a fortune, but it's a reduction in costs – and that's reason enough to support this bill.
How is this savings possible?  Because the bill will require Illinois utilities to dramatically increase investments in money-saving energy efficiency. By curbing the amount of power our households consume, efficiency lowers our costs. In fact, the state's existing energy efficiency programs are the foremost reason why Illinois has the lowest electricity bills in the Midwest.  This bill will redouble those investments, yielding an estimated $4 billion in energy costs saved over its lifetime.
WITHOUT SB 2814, CONSUMERS WOULD FORFEIT THE SAVINGS AND STILL HAVE TO PAY HIGHER UTILITY BILLS
Without this legislation, two existing nuclear power plants in Illinois would be destined to close, eliminating about 1,500 jobs that fuel the central and western Illinois economies.  Once those plants close, consumers would pay higher prices to replace the electricity they generated – but they wouldn't reap any of the offsetting savings unleashed by the legislation.
WHILE SOME OPPONENTS TALK "BAILOUT," SB 2814 DELIVERS A PAYOUT FOR CONSUMERS
While energy efficiency is good for consumers, some big energy providers don't like it because it shrinks their profits.  So they've complained that the legislation is a "bailout" for Exelon's nuclear plants. But the fact is, even with financial assistance for the nuclear plants, this legislation will produce a net savings for consumers.
Meanwhile, if these big energy companies get their way and defeat the bill, Illinois electricity rates will increase due to the closure of the nuclear plants and consumers will lose the opportunity for even greater savings.
CUB owes a great debt to thousands of CUB Action Network members who sent messages and made phone calls to advocate for the money-saving energy efficiency standards in this bill. Your voices were a big help in securing a big win for energy efficiency and lower utility bills. Thank you!