As Illinois faces a three-pronged storm — the COVID-19 pandemic, racial and economic injustice, and utility corruption — the Illinois Clean Jobs Coalition announced a new and stronger version of the Clean Energy Jobs Act (CEJA) that doubles down on utility accountability reforms, equitable job creation and economic recovery.
The legislation, currently before the Illinois General Assembly, is the only clean energy bill in Springfield that could secure savings for consumers while significantly ramping up renewable energy development in the state. It would take advantage of the falling cost of clean energy, reform the electric market, expand energy efficiency and put Illinois on a cost-effective path to 100% renewable energy by 2050.
And in the wake of a bribery scandal in which ComEd paid a $200 million fine to resolve a federal lobbying probe, the bill would also help hold utilities accountable to their customers.
"Profits, rather than people, have dictated energy policy in Illinois for too long, at the expense of residents and small businesses. Energy policy should put people and communities first," said state Rep. Ann Williams, a sponsor of CEJA along with Sen. Cristina Castro. "The new version of CEJA will make Illinois a national model for addressing climate change and restoring the public's trust by requiring significant accountability, transparency and ethics requirements for utilities."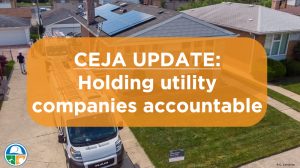 The newest version of the comprehensive clean energy bill (House Bill 3624/Senate Bill 2132) includes these measures:
Going beyond the 'self-policing' ethics requirements set forth in the agreement ComEd reached with federal prosecutors, CEJA would create an independent monitor to ensure ethics compliance within all public utilities in the state.

Providing restitution for ratepayers by requiring ComEd's shareholders to repurpose ill-gained profits for programs that benefit communities most in need of resources.

Ending formula rate increases, and directing the Illinois Commerce Commission to only approve utility investments, programs, and rates that are cost-effective and contribute to a cleaner, more equitable and reliable electric grid.

Requiring utilities to pursue goals like affordability and equity and eliminating utility incentives to make more profit simply by spending more customer money. This way, utilities only make more money when they do a better job.

Prohibiting the use of ratepayer funds for expenses related to federal investigations or ethics compliance.
"Utilities are supposed to serve the people, but for too long it's been the other way around in Illinois," said Jack Darin, Director of the Illinois Chapter of the Sierra Club, at a press conference Wednesday announcing the updated legislation. "Those days simply must be over. It's time to listen to the people of Illinois and what they want for their energy future, and pass the Clean Energy Jobs Act this year."
Aside from ensuring public utilities truly serve the public interest, the updated legislation addresses long-standing inequalities that have recently been highlighted by the pandemic.
Communities of color are being hit disproportionately hard by COVID-19, and many of them are also negatively impacted by fossil fuel pollution that harms the health of nearby residents.
"My community, and broadly, our Black and Brown sisters and brothers, are suffering," said Dulce Ortiz, co-chair of Clean Power Lake County. The Waukegan resident and her mother both suffer from asthma, putting them at a higher risk for contracting COVID.
"Now more than ever we need to pass CEJA to provide immediate support for Black and Brown communities impacted by the COVID-19 pandemic," she said.
The news conference touched on CEJA's provision to reform the electric capacity market, and protect ComEd customers from $1.7 billion in higher bills over the next decade because of a federal regulatory ruling that would funnel more money to fossil fuel generators. Instead of subsidizing energy from fossil fuels — what Ortiz calls a "slap in the face" to communities like her own in Waukegan that deal with the side effects of power plant pollution — CEJA would promote cleaner, renewable options.
Like others at the news conference, Tonyisha Harris, a youth climate activist, stressed the urgency of passing clean energy legislation to provide cost-effective, consumer-friendly ways to fight climate change.
"We know the science, and we know the solutions. And they are spelled out in the Clean Energy Jobs Act," Harris said.