UPDATE:  Early this morning, the Illinois Senate passed comprehensive clean energy legislation (Senate Bill 18) and sent it to the state House of Representatives. (The vote was 39-16-2.) That came after days of negotiations and two hearings by the Senate Committee on Energy and Public Utilities.
While there is broad agreement on most of the provisions in the bill, there are still key issues that will have to be resolved in the House of Representatives, including the process for closing coal-fired power plants by 2045. CUB will update you when we know when the House is scheduled to take up the matter. In the meantime, the various parties say they're ready to work with the House to pass legislation. 
Read the statement from the Illinois Clean Jobs Coalition. 
We appreciate all the CUB supporters who have sent thousands of messages to the General Assembly in favor of strong, pro-consumer energy legislation. We know it's been a long haul–more than two years of hard work. We're closer than we've ever been, and we're not giving up.
---
In what could be one of the most important weeks in the history of Illinois energy policy, legislative leaders in Springfield are working to pass a comprehensive energy bill before the end of August. The question is: Will CUB and other advocates be able to achieve legislation that's good for the planet and Illinois consumers?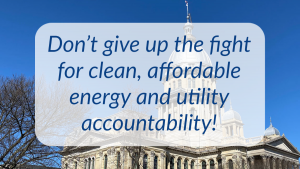 CUB supports a sweeping proposal by Gov. J.B. Pritzker that would contain historic provisions to hold utilities accountable, help communities most hurt by pollution enjoy the benefits of clean energy jobs, close dirty power plants by 2045 and move Illinois to 100 percent clean energy. At the beginning of the month, consumer and environmental advocates and labor leaders were at an impasse—mainly over a schedule to close coal-fired power plants.
Although some progress has been made since then, the schedule to close power plants is still a sticking point, and the governor and consumer and environmental advocates opposed the first legislative proposal that was filed on Aug. 30. The hope is that Springfield can still pass strong, pro-consumer legislation before the end of August—which is midnight tonight.
The stakes are high for a number of reasons:
A grim report from the United Nations essentially said our backs are against the wall in terms of dealing with the most catastrophic effects of climate change and the world must begin immediately to move away from dirty energy. CUB's own research shows that not only is climate change a health threat, but it also could lead to billions of dollars in higher power bills if we do nothing.
Money to support clean, affordable solar power has dried up during the legislative standoff. The Chicago Sun-Times reported that after a state incentive program ran out of money last year, just 313 small rooftop solar projects were completed statewide in the three-month period ending June 30. That's compared with 2,908 a year earlier.  Solar had been booming in Illinois, but stumbled after these incentives from an earlier law, the Future Energy Jobs Act, ran out. In fact, if Illinois doesn't pass a bill by the end of August, more than $300 million in money collected from power utility customers to support solar power must be returned.
Energy giant Exelon announced it will close two nuclear power plants if it doesn't get support through energy legislation. Most Illinois leaders agree that nuclear power plants are a bridge to a clean energy future.
Exelon's subsidiary, ComEd, has been under a cloud of scandal, giving the state an unprecedented opportunity to pass utility reforms.
Although these problems require urgent action, several times—May 31, mid-June and earlier in August—consumer and environmental advocates have been stopped by fossil fuel interests that want coal-fired power plants to stay open indefinitely.
But while the window is closing fast, there's still an opportunity to pass the governor's proposal by the end of the month. "Folks, we've got some work to do, but we're about 97% of the way there, and it's because of all of you that we're gonna get over the finish line," Gov. Pritzker said at a recent State Fair rally organized by members of the Illinois Clean Jobs Coalition.
The governor's proposal would be a national leader for helping communities that have suffered the most from fossil fuels—including Black and Brown communities, lower-income towns and those abandoned by the coal industry—make the transition to a clean energy economy. That means more clean energy businesses and jobs—which is exactly what the state needs to help recover from the pandemic. In addition to those important provisions, there are a lot of other pro-consumer planks that CUB supports.
As CUB has said before, the consumer watchdog is fighting for legislation that would:
Launch a responsible plan to fight climate change and work toward 100 percent clean energy by 2045. (This is an urgent need for our planet and our bottom lines. A CUB study found that unchecked climate change could lead to $10.9 billion in higher electric bills over the next 30 years.)
Support low-cost clean energy and give a boost to the solar energy market.
Replace ComEd's unfair formula rate-setting system with one that can provide more oversight. The ComEd corruption scandal is tied to legislation it pushed that has led to hundreds of millions of dollars in rate hikes for Illinois consumers.   (CUB is fighting in federal court for a refund for ComEd customers harmed by the company's scandal, but the consumer group also wants to replace formula rates with a system that has more regulatory oversight.)
Create an independent ethics monitor at the Illinois Commerce Commission (ICC) to rein in utilities. Also, require ComEd and Ameren to have an ethics compliance officer at their headquarters.
Pave the way for cleaner, more affordable electric transportation options.
Expand energy efficiency programs that have already helped lower energy bills by billions of dollars.
Urge your legislators to pass strong, pro-consumer clean energy legislation.