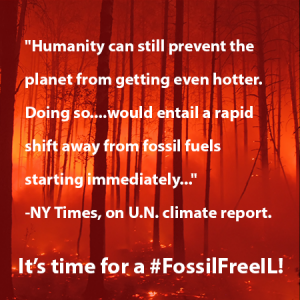 Dangerous weather due to climate change is inescapable in years to come, and the world will only be able to prevent the most catastrophic effects of global warming if it immediately begins to move away from burning fossil fuels, according to an unprecedented scientific analysis that proves the importance of Springfield and Washington passing strong clean energy legislation.
United Nations Secretary General Antonio Guterres called the report a "code red for humanity."
"The alarm bells are deafening, and the evidence is irrefutable: greenhouse‑gas emissions from fossil-fuel burning and deforestation are choking our planet and putting billions of people at immediate risk," he said. "Global heating is affecting every region on Earth, with many of the changes becoming irreversible."
The U.N. report comes as Washington is considering an infrastructure package of legislation with groundbreaking clean energy improvements, and Springfield is at an impasse over what could be the strongest clean energy bill in Illinois history.
"The U.N. report underscores that we have to plan for a clean energy future now, without delay," CUB Director of Communications Jim Chilsen said. "Washington and Springfield have to pass legislation that will solve for climate change while also holding energy companies accountable and protecting our power bills."
CUB has argued that climate change is not only bad for our well-being but also bad for our energy bills. We released an analysis this year that found climate change could raise ComEd bills by about $11 billion in years to come.
The new U.N. report was based on more than 14,000 studies and authored by 230 of the world's leading climate experts.  Climate Change 2021: the Physical Science Basis is the most comprehensive summary ever of the science of climate change. It was released on August 9 by the U.N.'s Intergovernmental Panel on Climate Change (IPCC).
Key findings from the report:
*The report confirms that humans are the main cause of climate change. The increases in carbon dioxide in the atmosphere since the industrial revolution (1760 to 1840) are directly connected to such factors as the burning of fossil fuels like coal, gas and oil for energy and deforestation due to farming, logging and development. That has led to greenhouse gases like carbon dioxide and methane trapping heat and warming the planet by about 1.1 degrees Celsius, or 2 degrees Fahrenheit.
*Some of these negative climate developments are happening quickly. For example, ocean levels have risen 8 inches on average over the past century, at a rate that is nearly double since 2006. Heat waves are longer and hotter since 1950, and bursts of extreme ocean heat–which kill aquatic life–have doubled in frequency since the 1980s.
*Further warming and historically bad weather–rising seas, disappearing glaciers, extreme heat, floods, drought, tropical storms–are inescapable and some changes will be "irreversible for centuries to millennia."
*The world's window to act is closing, but there's still a chance to avoid the most catastrophic impacts of climate change. That would mean a coordinated effort among countries to switch away from fossil fuels and stop adding carbon dioxide to the atmosphere by around 2050. That could halt global warming at around 1.5 degrees Celsius. While such a development would be a global victory, that level of warming would still throw life-threatening heat waves, drought and some animal and plant extinctions at the world.
"We can expect a significant jump in extreme weather over the next 20 or 30 years," Piers Forster, a climate scientist at the University of Leeds who helped write the report, told The New York Times. "Things are unfortunately likely to get worse than they are today."
But immediate, comprehensive action could prevent average temperatures from passing 2 degrees Celsius, compared with the time before the industrial revolution. While it's too late to prevent some climate disasters, immediate and comprehensive emissions cuts "could really make a difference in the climate future we have ahead of us," Ko Barrett, a vice-chair of the panel and a senior adviser for climate at the National Oceanic and Atmospheric Administration told The Times.
Dangerous heat waves that once occurred every 50 years, today happen about every 10 years, on average, The Times reported. At 1.5 degrees Celsius of global warming, those heat waves will strike every 5 years and be significantly hotter. At 4 degrees, they will occur nearly annually.
Current policies among world governments won't cut it, putting the world on track for roughly 3 degrees Celsius of warming by the end of the this century, according to experts. The word needs bold new policies, among the biggest polluters, including the United States.
That's why CUB is urging Washington to pass comprehensive clean energy legislation, including the latest infrastructure package of bills. And the watchdog is working in Springfield to get beyond an impasse and get meaningful, pro-consumer clean energy legislation over the finish line. The proposal that CUB favors would get Illinois to 100 percent clean energy by 2045. Tell your legislators to take bold clean energy action here!
Two more U.N. reports–one on how climate change could hurt human society and another on strategies to reduce emissions–are due out next year.