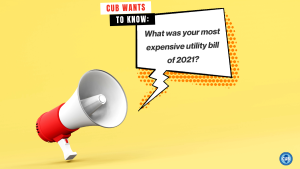 2021 was a tough year for utility consumers with millions of dollars in rate hikes and skyrocketing natural gas prices. Please take a second and take our poll: What was your most expensive utility bill throughout last year?
These surveys help us better understand what Illinois consumers are going through. Plus, one participant will be randomly selected to win $100. 
The deadline to take this poll is midnight Monday, Jan. 31. View the Terms and Conditions here. 
Good luck!