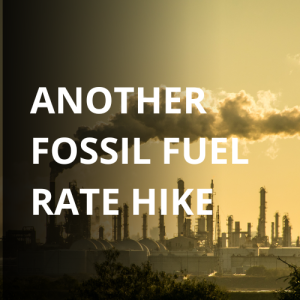 Peoples Gas, which serves Chicago residents, was expected on Friday to file for a record $402 million rate hike–a roughly 59 percent increase in delivery rates, according to Crain's Chicago Business. Its suburban sister company, North Shore Gas, also is expected to file for an $18.5 million, or about 19 percent, increase.
"The City, Illinois Attorney General's Office and CUB will challenge this excessive rate hike on behalf of residents, and we urge the Illinois Commerce Commission (ICC) to take action to stop these increases and protect all customers," CUB Executive Director David Kolata said.
Peoples' proposed increase, the largest gas rate-hike request in Illinois history, follows another record request from Nicor this week. It's unusual to get hit with so many enormous rate-hike requests so quickly–and even worse, CUB expects Ameren Illinois to file for a gas hike this year also. The Illinois Commerce Commission (ICC) will rule on the requests after 11-month rate cases.
These hikes serve as another reminder that fossil fuels–in this case, natural gas–are simply too expensive, and we need to begin the transition to cheaper, cleaner ways to heat our homes. (Read our guide on building electrification in Chicago.)
These increases affect delivery rates, which take up about a third to a half of gas bills. They are what gas utilities charge customers to cover the costs of delivering gas to homes—plus a profit. If approved, the increases would raise delivery charges by about $142 per year for Peoples Gas and about $72 per year for North Shore customers. 
Rapidly increasing gas bills have been an ongoing problem in Illinois. In 2013, the General Assembly allowed Peoples Gas, Nicor and Ameren to add the Qualified Infrastructure Plant (QIP) surcharge to bills. This regulatory shortcut allows utilities to recover certain costs more quickly and outside a standard ICC rate case proceeding.
For Peoples Gas, the surcharge funds the mismanaged System Modernization Program (SMP), a multibillion-dollar infrastructure project that consumer advocates have criticized as mismanaged and punishingly expensive for consumers. Projected costs for the gas utility's aggressive capital program have skyrocketed from about $2 billion to $11 billion, and an analysis by the Illinois Attorney General's office estimated that gas bills could double over the next 15 years. Yet, while customers suffer under growing gas bills, Peoples has been making record profits. (Peoples' parent company, Wisconsin-based WEC Energy Group, also is doing well. It raked in $1.16 billion in profits over the first 9 months of 2022.) 
The QIP surcharge now exceeds $15 for an average Peoples Gas customer.  The abusive surcharge expires at the end of 2023, and the Illinois Attorney General's Office, the City of Chicago and CUB are advocating for it to be eliminated. Peoples has indicated that included in the $400 million rate-hike filing is the $207 million the utility is currently collecting from the QIP surcharge, and it proposes to roll that amount into regular delivery rates.
CUB will fight this rate hike and work to reduce it as much as possible over the next 11 months. In the meantime, customers should protect themselves to soften the blow of bills that are already high due to skyrocketing supply prices and aggressive spending by Peoples Gas:
Get energy efficiency tips at CUBHelpCenter.com, our online resource on high energy prices.

Contact your utility to find out about assistance available. Also, you can see if you qualify for other energy assistance by contacting the

Low Income Home Energy Assistance Program

at 1-833-711-0374.

Beware of misleading marketing. Even customers who pay an alternative gas supplier would still pay these delivery rate hikes. Beware of any sales representatives who say you can avoid the rate hike by going with an unregulated supplier. All customers would pay these higher delivery rates.