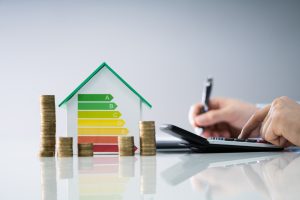 By: Kate Shonk
Sustainable Communities Liason
The summer cooling season is upon us, and at CUB we're here to help all Illinoisans save energy and money. For consumers who rent their homes, it can be hard to have control over their building's efficiency measures–but you still have options. Even if you don't pay an electric bill, it's a good idea not to waste energy, for the sake of the power grid and the planet.
To start, a simple way to weatherize a rental could involve air-sealing any drafts around windows or doors. This includes using weatherstripping, caulk, or plastic over windows. Once the home is better sealed, it's easier to keep the air inside and use less energy to cool a residence.
The next step is changing your usage habits. In a hot summer, there are ways to reduce a spike in usage from air conditioning:
Use fans and open windows before reverting to air conditioning. Make sure any ceiling fans are flipped to summer mode (run counterclockwise), to create a downdraft.

Watch CUB's video.

If you do need to use your AC, be conscious about the temperature setting. Always defer to your own health and comfort, but aim to keep your AC set at about 74 degrees.

Turn off your AC or any fans before leaving your apartment.

Make sure the AC unit is properly sized for the room. Visit

this EnergyStar webpage

to learn how to size your AC.

Regularly clean the filter on your AC unit. 
Additionally, while air conditioning will account for a large majority of your summer electric bill, you can still save energy by unplugging unused devices and appliances. Vampire power – or power wasted from appliances and devices left plugged in – can account for around 23 percent of a home's power consumption. Similarly, lighting accounts for around 15 percent of consumption. Be sure to turn off any lights not in use, and switch out any old light bulbs for LED bulbs. 
In addition to DIY weatherization and efficiency, utility companies do offer programs geared toward renters. An important program to check out is the Multi-Family Home Energy Assessment offered by ComEd, Nicor, Peoples Gas, Northshore Gas, and Ameren. 
Through this free offering, an energy advisor can do a comprehensive walkthrough of your unit to see where you can be more energy efficient. Along with the walkthrough, the program includes free energy-efficient products, such as LED light bulbs, programmable thermostats, efficient showerheads, advanced power strips, and more. Important note for renters: You must receive consent from your landlord or property manager before participating. At the bottom of this article, we've included a sample email or call script to receive permission from your landlord to participate.
For a more comprehensive overview of energy efficiency and demand response programs, community solar, and all things utility-related for renters, order a free copy of CUB's Renter's Utility Guide!
---
Sample Letter: 
Subject line: Request for Home Energy Assessment Approval
Greetings,
I hope this message finds you well! I'm a resident of (address), and I'm writing to receive your approval to participate in the Home Energy Savings program offered through my utility company. This free program offers the opportunity for an energy advisor to come to my unit and assess where energy-efficient upgrades can be made. Not only can this lower my utility bills, but it can also help increase the comfort of the unit and improve building safety. Again, this program comes at no additional cost to me or you. Every utility consumer pays into this program under the "Energy Efficiency Programs" line item on our bills. 
If you'd like more information on the program, you can find it at this link. If you approve, please fill out this form or call 1-855-433-2700. 
I sincerely appreciate your time and consideration. With the rising cost of utilities, it's important to utilize programs like these. Please let me know if you have any questions. 
Thank you,
(Your name)
About the author: Kate Shonk started at CUB in 2022. She serves as the main contact for grassroots outreach events and works to advocate for Illinois consumers. Kate graduated from the University of Michigan in 2020 with degrees in English and Political Science. Her favorite part about working for CUB is combining her passions for community organizing and environmental policy. In her free time, she enjoys crocheting, writing, and staying active around the city.